LG G2 now available on AT&T, Verizon and T-Mobile
32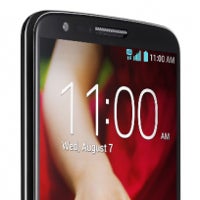 UPDATE: It would appear that Verizon's LG G2 landing page is simply not updated, the G2 is actually already available on Verizon. The story has been edited to account for the omission.
The LG G2 is an awesome device. Wethink very highly of it. Which is why LG's promise to shorten itstraditional gap between product announcements and their respectiverelease dates, especially worldwide, grabbed our attention. Ofcourse, we have seen a fair amount of broken promises in our time,but on LG's last count, we're happy to report that Sammy's localrival has manned up and delivered: the LG G2 is nowavailable on AT&T, Verizon and T-Mobile.
There are a few, mostly small,differences between the offers from the three carriers, startingwith their pricing models: AT&T and Verizon want you to dole out $199.99upfront, if you pick a 2-year contract, whereas, on T-Mo, you'll onlyhave to pay a cool $99.99. It's worth noting that T-Mobile hasalso thrown into the deal the LGQuickWindow, G2's companion case, which it values at $49.99, sothat's a nice perk.
If you're afraid of commitment, then the LG G2will cost you $574.99 on AT&T, $599.99 on Verizon, and $603.99 on T-Mobile.
Those of you on Sprint will have to hold the tears of envy back for another month -- the LG G2 is slated for an October 11 launch.
Thanks, Saam!