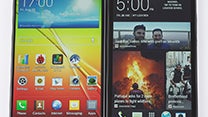 Introduction
The
HTC One
grabbed our hearts with exquisite aluminum design, amazing front stereo speakers and blazing fast performance, but there's a new kid on the block that braves to challenge all that. Welcome the
LG G2
, the contender, a device that revives the old aluminum vs polycarbonate fight, but has a couple more aces up its sleeve.
LG listened and learned, and half a year after the arrival of the HTC One, the G2 brings the latest and most powerful Snapdragon 800 chip, an ambitious 13-megapixel camera with optical image stabilization and a stunning 5.2-inch screen with almost no bezel. All that in an extremely compact and ergonomic body with all its buttons on its back. Weird and brave, the G2 throws a gauntlet in HTC's way. Let's see whether it has all it takes to win this fight.
Design
The LG G2 is polycarbonate, the HTC One is aluminum. This should nearly automatically give the HTC One the
edge
- aluminum feels stiffer with a harder to scratch coating and it has proven to allure a sense of lavishness. Do we have a winner? Not so fast. LG might have gone with polycarbonate (and we'd argue there is not much of a difference between aluminum and polycarbonate in terms of pure durability), but it has done a tremendously good job with ergonomics. Still, build quality is good on both devices, but the HTC One feels monolithic, more trustworthy.
Size-wise the two devices are very similar, the HTC One is a bit smaller, but the difference is barely noticeable. In both cases, single-handed operation is quite a stretch.
Display
While there might be almost no difference in their sheer size, LG has done wonders with the display bezel and slimmed it down so much that it managed to equip the G2 with a 0.5-inch larger display. That's right - the LG G2 has a 5.2" screen while the HTC One only features a 4.7" one.
Luckily, the two are among the best we've seen in a smartphone. Extremely sharp and crisp at 1080 x 1920
pixel
resolution, the HTC One has the slight upper hand in crispness but it's advantage is barely noticeable.
Both screens have impressive, very lively colors. One slight difference is that the HTC One has a bit warmer, more accurate tones, and on the LG G2 whites are a bit cold, but overall both are excellent. The two displays are very bright and while brightness does not make much of a difference indoors, outdoors it allows for both displays to be easy to use, putting less strain on the eyes. Viewing angles are good on both.
All in all, the screens on the G2 and the One are stunning. It's a close call, but the One's more accurate, pleasingly warm colors swing it in HTC's favor.
Display measurements and quality