LG G2 battery gets a hump to store a little extra juice
13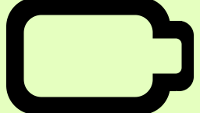 We all know that feeling. Your smartphone battery is dead and you didn't bring a charger with you. To make matters worse, you're hours away from home and now you're surely going to lose out on that A-Rod autographed steroid syringe that you were bidding for on eBay. After silently cursing your phone and the battery, you lament over not owning a handset with a
larger capacity
cell.
While a battery needs to be able to fit inside the phone, LG has come up with a interesting idea on how to add a little more juice to a cell, while still making sure it fits inside the device. Take a look at the pictures in the slideshow below of the battery on the
LG G2
. The phone that was introduced earlier Wednesday is powered by a
3000mAh battery
, seemingly powerful enough to get average users throughout an entire day without needing a recharge. The battery on the LG G2 has a little step that allows it to have a little more juice than your regular rectangle shaped cell.
Not only is this found on the battery powering the LG G2, the extra hump can be found on the battery being used for the
Motorola Moto X
(which has a 2200mAh capacity). Motorola happens to use LG Chem batteries on some of its phones. And since neither the Moto X or the LG G2 has a removable battery, you are going to want to milk each cell for as much power as you can get out of it.
It's amazing how so much research probably went into a design change that seems so simple when you think about it. Actually, we're looking forward to the day when the
scientists working on using urine to recharge a smartphone battery
have that method perfected.
source:
AndroidCentral