LG Exalt user guide and case design leaks for Verizon
1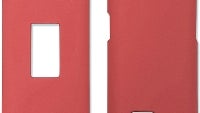 Over the last few weeks, we've been hearing about LG's upcoming feature flip-phone for Verizon, the Exalt VN360.
From what we know so far, the
LG Exalt
is set to be out
later this month
, but might not launch
until mid-September
, as Verizon wants to sell-off their current
LG Revere 2
stock first.
The LG Exalt is said to
produce high quality audio calls and will also have the largest display of any Verizon flip-phone
, which means the display would be around 2.4" in size.
Unfortunately, the full specs haven't been revealed yet, but we did happen to see that the
User Guide
is posted, which can give us some details. First off we can see what the inside of the phone looks like as well as the menu styling on the screen and layout of the keypad. There is a removable battery on the back, where also the camera, external speaker, and microSD card slot are located. Speaking of the camera, it is still only a 2MP (1600x1200) shooter and lacks a flash, with video recording limited to 320x240 resolution. There is also a front display, as the guide says to can select for it to show the clock and notifications, or just the clock. Thought one surprise is that
it appears that 3G EVDO data support is missing
, which would mean it is limited to the slower 1xRTT data speeds.
Furthermore, from looking at the case design that is to fit over the LG Exalt, the front display appears to be rectangle in shape, and lacks any front-control buttons, such as ones for music playback control or viewing messages, which was featured on the
LG Clout
.
So if you are looking for a flip-phone, does the LG Exalt seem to exalt your expectations, or would the
Samsung Convoy 3
be a better choice?
source:
LG Mobile
(pdf) and
qmadix