Kyocera Echo shows up in an ad, gets an official page over at Sprint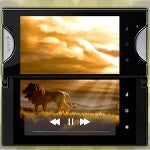 Mere hours after the official announcement of the dual-screen Kyocera Echo for Sprint, thecarrier released official press materials about the excitingpossibilities for the Echo. But before jumping into all the details,check out our hands-onand live coveragefrom the relatively exciting event featuring illusionist David Blaine.
While Sprint didn't pull the muchexpected 3D card off its sleeve, it did deliver an industry firstwith the Echo and now you can check out its first official appearancein Sprint's ad below. The ad calls on expanding your horizonsand showcases the seven core apps optimized for dual-screenperformance. Exciting as it sounds, the Echo is a pretty thickdevice. Just how thick? Take a look at the official press photosand compare them to the pictures we took of the handset at the Sprint event, and see for yourselves.
source: Sprint