Kyocera Echo Hands-on
31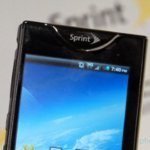 Even prior to Sprint's special event in New York City starting, it was quite evident from the words written across the walls and tables that the theme of the event had to do something related to being a "
pair
" or simply "
plus two
." Nope, we didn't see anything in regards to any 3D related device, but instead, we watched David Blaine start off the festivities by doing some impressive tricks under water. Interestingly enough, he managed to entertain everyone with his illusions, though, we'd bet that a majority of people in attendance were hoping for him to whip up something extraordinary out of nowhere – possibly a 3D phone? As much as we'd love for some wishful thinking to come true, Dan Hesse and team finally came onto the stage to introduce the industry's first Android powered smartphone to feature dual-screens; the
Kyocera Echo
.
From a glance, the dual-screens and unique hinge mechanism looks interesting enough, but after picking up the handset and checking it out, it makes us question how it'll handle after some time. Before getting into the nitty gritty, one has to remember that we're talking about a product from Kyocera – which doesn't particularly resonate with the most premium set of devices on the market. Regardless of that, the Kyocera Echo is primarily
constructed out of plastic
and is held together in piece by its hinge mechanism. When it's closed, it feels rather
compact
to hold without being overly demanding to the hand, but it does pack some
noticeable thickness
. However, when it's opened completely, it undoubtedly requires you to wield it with both hands.
Taking up the majority of space on the device are two
3.5" WVGA
(480 x 800) LCD screens
that pack enough detail for clarity, but when combined together, it sums up to a sizable
4.7" display
. Although it boasts enough detail, we're not particularly too fond by its color output – which tends to be a little bit more bland in tone. Overlooking that, they're both more than responsive to the touch as they easily registered every movement of our finger.
Before getting instructions on how to open up the handset, we found ourselves having trouble because it seems to work better with two hands. After fumbling around, we were finally able to have it locked into place as both screens line up against one another – thus leaving only a minimal amount of space in between. Additionally, you can prop up one of the displays to emulate the look of a laptop so that it's positioned at an angle. Granted that it feels solid enough right now, we're
not confident
by how it'll hold up in the long run due to normal wear and tear. Still, the unique mechanism called the "
pivot hinge
" quite easily provides the much needed character for the Kyocera Echo. In terms of other specs, the Echo features a 5-megapixel camera with flash and a 1GHz Snapdragon processor.
Since its dual-screens are the focal point of the device, it makes for some rather interesting concepts that take some of its cues from the tablet space. The Kyocera Echo is running
Android 2.2 Froyo
and it seems to run quick much like any other handset we've checked out using the processor. Though, Sprint goes on to tout its ability to "
Simul-Task
" which essentially allows you to take advantage of its dual-screens and go above and beyond the traditional norm of multi-tasking. Specifically, the Echo's functionality is broken down to single-screen mode, simul-task mode, optimized mode, and tablet mode. Naturally,
single screen mode
is basically using the handset closed with its single display.
Secondly, you've got
simul-task mode
that allows you to choose two of the phone's seven core apps (messaging, e-mail, web browsing, phone, gallery, contacts, and VueQue) and have them displayed separately. So if you want, you can simply browse the web on one and compose an email on the other.
Optimized mode
focuses more on a single app and utilizes both displays together for better presentation. In fact, the best example for this is running the gallery app where it'll display your selected photo on the top screen, while the bottom allows you to browse through content.
And finally, there is
tablet mode
which as its name implies, allows you to fully utilize the real estate of both display together – like using Google Maps to display an entire map or web browsing a page.
Overall, there is no denying the unique factor that the Kyocera Echo holds, but it's hard to fathom right now if it's simply a novel idea. Meanwhile, it's going to take developers some investment in building out apps to take advantage of the new functionality presented by its dual-screens. In any event, the handset is slated for a release some time in
spring for the on-contract price of $199.99
. As much as its unique look might draw some attention, there are some alarming next-generation items it's
missing
. For one, this is simply a
3G enabled device
and it might perplex some people as to why it's not flaunting support for Sprint's 4G WiMAX network. So the next question we need to ask is when we'll see the industry's first dual-screen Android device with 4G?