Kyocera Echo Review
24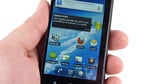 Introduction:
It's been a while since we saw a truly unique product, especially on the hardware side. Looking to establish itself as a real player in the game, Kyocera- nee, Sanyo- has introduced the Echo, the world's first dual-screen phone. The Echo packs a pair of 3.5" displays on top of one another, then "flips" open and puts them together to create a 4.7" mini-tablet. This Android 2.2 device sports some top-tier specs, like a 1GHz Snapdragon processor with 1GB of ROM and some questionable ones like no 4G or front-facing camera. As the first of its kind you're definitely going to pay the early adaptor tax on the
Kyocera Echo
, but just how steep is that and is it worth it?
Included with the Echo Kyocera has included an 8GB microSD card, microUSB data and charging cable with AC adaptor and a spare battery and charging pod that can double as a charger on the go.
Design:
So, how exactly do they do it? How does the Echo transform (bet they wish they had beaten Samsung to that one) from a single, 3.5" 480x800 display into a dual display with an 800x960 resolution? It's pretty slick actually; there is a spring hinge that sits between the two displays when closed, but when opened it flips out, providing a back for the top display to rest on which then clicks into place aside the second display. It's easier to see than explain, so check out our video of it in action.
In this day and age of black slabs the Kyocera Echo is a refreshing change…but still a black slab. The glossy black front has gaudy chrome accents, and the rear is a very plasticy flat black with an ever so slight coat of soft touch. It can be a slippery device to hold, but thankfully for safety's sake there is a lot of it to hold onto. The Echo clocks in at a rather portly 17.2mm thick thanks to the second display.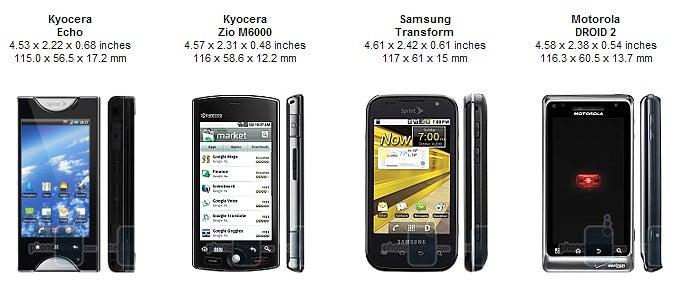 You can compare the Kyocera Echo with many other phones using our
Size Visualization Tool
.
If you love Sanyo devices than the Echo will feel right at home to you and in fact it reminds us very much of the
M1
. The click in the hinge is back (aarg!), the aesthetics are way behind the times and there is a very plastic feel to the Echo. That said, the build quality feels pretty good so far. It'll be interesting to see how the thin hinge holds up over time, but at least for now there is no play in it. We do foresee user error issues because the second display doesn't instinctively click into place next to the secondary one, leaving it loose and prone to hinge damage. It can also be incorrectly used similar to the
HTC Arrive
, with the main display tilted up like a laptop.
A 480x800 display on a
3.5" screen
leads to very crisp resolution, and 980x800 across 4.7" is quite nice as well. The displays do not seamlessly blend together, instead there is a black strip created by the bezels that reminds you of the TV wall of an electronics superstore circa 1995. It doesn't take long to get over this however and the value of such a big display becomes apparent when browsing the web. The displays are prone to wash out in direct sunlight, but at the highest brightness are still usable. The colors are still a bit warm, but nowhere near as noticeable as the Zio was. At times it looks like the primary display is slightly cooler than the secondary one, but we've stared at it so long and still can't come to a conclusion, so if there is a difference it is extremely minute.
Each display has a Home, Menu and Back set below it, but only one is active at a time (main display when closed, secondary when open.) We appreciate the capacitive buttons, but miss the search option and for aesthetics wish that the icons on the secondary display were rotated 90
o
.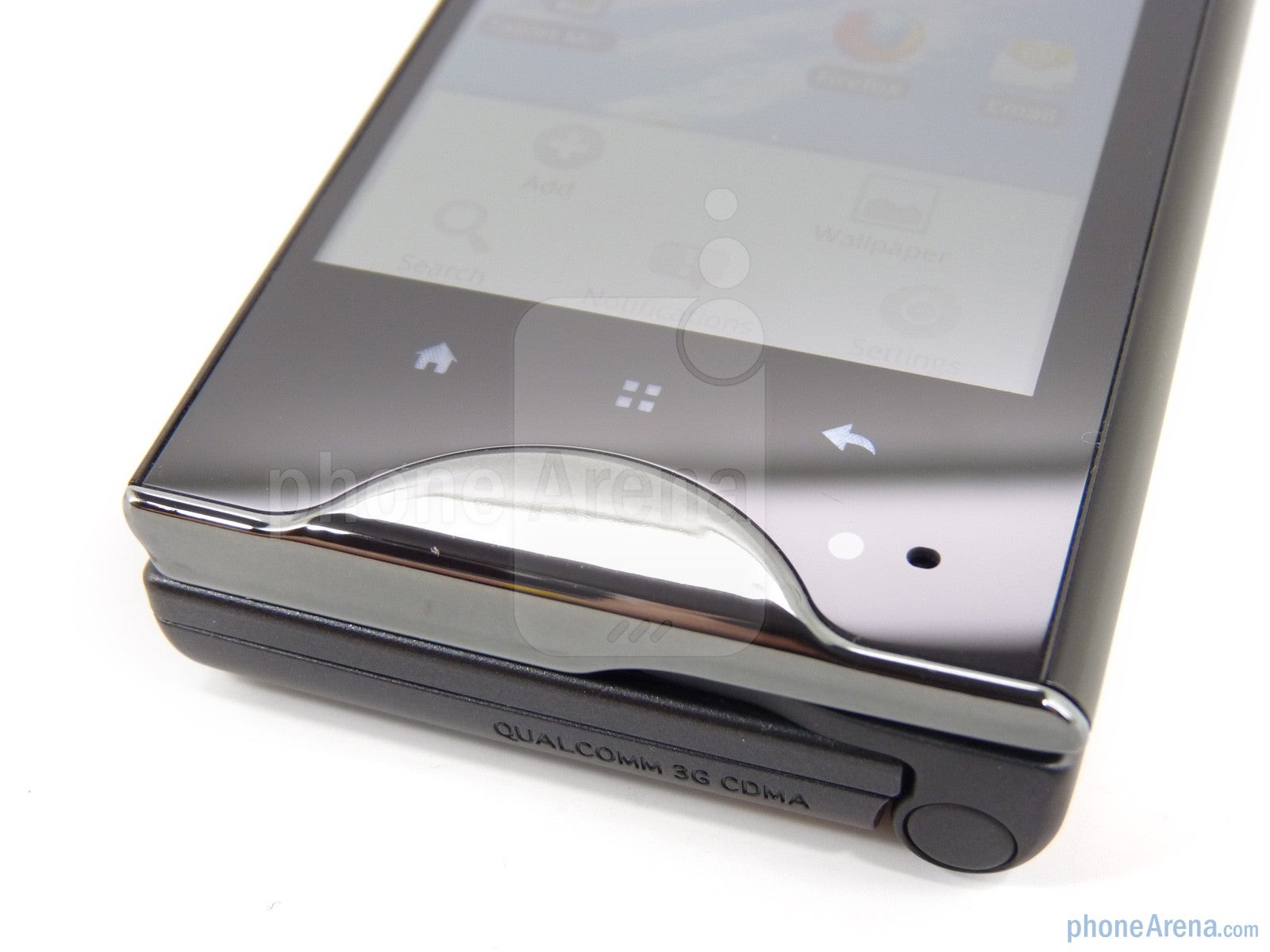 The Home, Menu and Back buttons
The left side
of the Kyocera Echo is super-busy. From top to bottom you'll find: 3.5mm headset jack, covered microSD slot, power button, a volume rocker that's too small, a covered microUSB port and finally a lanyard hole.
The right side
of the phone is part of the hinge mechanism, so it can't be used, but it would have been nice to see some of those offloaded to the top or bottom of the phone, both of which are totally barren. The back of the Echo houses the
5MP
camera and LED flash (housed in gaudy silver trim) and the phone's single speaker, which is a bit weak on the media front but great as a speakerphone.
The hinge is a very cool mechanism that accomplishes something no manufacturer has ever done before, but overall we're not very impressed with the design of the Echo. It is very thick thanks to the second display, but instead of minimizing that with tapered edges Kyocera stuck to hard lines. The displays are very nice to look at, but the rest of the phone reminds us of a poor knockoff you'd find in Chinatown. Kyocera may have been innovative, but is there a law that says they can't be stylish as well?
Kyocera Echo 360-degrees View: