Kuo: shipments of Apple iPad mini 2 with Retina display to grow 102% in Q4
17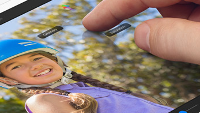 Whenever KGI analyst Ming-Chi Kuo says something related to Apple, you need to listen. The analyst is extremely well-connected. Consider the analyst's comments last January, when he said that
the new iPhone would contain a fingerprint scanner embedded in the home button
(score one for the analyst there). He added that Apple would release a low-priced model made from polycarbonate, be available in 6 colors and resemble the
Apple iPhone 5
. Okay, that isn't a perfect match, but considering that this forecast was made nearly 8 months before the phones were unveiled, you have to give Kuo some credit. Besides, internally the
Apple iPhone 5c
is almost a perfect match for the iPhone 5.
So now that we've established Kuo's bonafides, we should take note of his forecast made Tuesday about the
Apple iPad mini with Retina display
. The tablet,
which was launched today
, will see a 102% increase in shipments for the first quarter of 2014 from the current three month period. That should mean that 4.2 million units of the slate should ship in the three months from January through March. The Apple iPad mini with Retina display features a 7.9 inch panel with resolution of 2048 x 1536 which works out to a pixel density of 324ppi. That compares with the original
Apple iPad mini
which features a 1024 x 768 resolution on the 7.9 inch glass. Overall, that works out to a pixel density of 162ppi.
"We think current tablet products can, generally, sufficiently meet entertainment needs. As they are very cheap already, lowering prices won't effectively stimulate demand. Only new applications, which will bring about new growth momentum, will be able to solve the structural problems the sector faces."
-Ming-Chi Kuo, analyst, KGI Securities
With the boost to iPad mini with Retina display shipments, Kuo sees overall iPad shipments rising to 23.1 million units during the holiday quarter for a 64% sequential gain in shipments. But the analyst sees iPad shipments hitting the breaks in the opening three months of 2014 with shipments falling 42% quarter-to-quarter in the first quarter, bringing the total down to 13.3 million. The expected decline in Q1 will most likely come from a huge drop off in demand after the holiday season, and a drop off specifically in shipments of the
Apple iPad Air
to 6 million from 10.5 million during the prior quarter. Kuo says that the reduced shipments for the iPad Air in the first quarter will be due to cannibalization from the iPad mini with Retina display along with changes in the tablet sector.
Kuo sees the two non Retina display slates on Apple's roster, the Apple iPad mini and the
Apple iPad 2
, reporting month-over-month declines of 72% and 82% respectively in Q1 shipments to 2.4 million and .3 million unit respectively. As a result, the analyst expects that Apple will EOL the aging iPad 2 in the first quarter of 2014.

The Apple iPad mini with Retina display will have a great Q4 according to KGI analyst Kuo
source:
AppleInsider
Recommended Stories