Knock Code update sent out to owners of international LG G2
10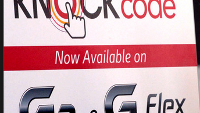 Back in March, we told you that
LG G2
owners were going to
receive an update giving them the ability to use LG's new Knock Code
. This is a two to eight tap pattern that you create in order to unlock the phone. While testing it for its inclusion on the
LG G Pro 2
, more than 50% said it was the most anticipated new feature on the handset, which says something great about Knock Code, or something not terribly flattering about LG G Pro 2 testers.
One of our loyal readers sent us a couple of screenshots from an international version of the LG G2, the LG D802. When LG announced back in March that Knock Code would be eventually made available for the LG G2 and the
LG G Flex
, it did say that the rollout would be done at different times to different countries.
Knock Code is an enhanced version of LG's KnockOn, which debuted on the LG G2. With the rear placement of the power and volume buttons on the device, LG wanted a way that users could awaken the phone if it were lying on a table with the screen-side up. With KnockOn, tapping on the screen twice will awaken it. To reiterate, Knock Code adds the ability for the user to select a two to eight tap pattern that will also serve as a way to quickly unlock your phone.
Thanks anonymous tipster!