Justin Bieber could have been the face of BlackBerry around the world
40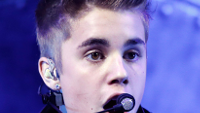 Would things have turned out different for BlackBerry had Justin Bieber been the face of the Canadian smartphone manufacturer? A recently published report covering the history of BlackBerry included an interesting story. Before the introduction of BlackBerry 10, Bieber approached the OEM with an offer. In exchange for $200,000 and 20 devices, the singer would be BlackBerry's Brand Ambassador.
A former senior business development manager for BlackBerry loved the idea. He tried to get BlackBerry's marketing team to go along with the idea, explaining how the fact that Bieber is Canadian, just like BlackBerry, could pull in some more home town business. He also tried to get the BlackBerry marketing team to understand how much teeny-bopper business BlackBerry could obtain from letting Justin Bieber become the face of the company. And all it would cost BlackBerry would be $200,000 and 20 phones.
While it sounds like a win-win for BlackBerry, the latter's marketing team wasn't sold. They felt that Bieber was just a fad. As he was getting tossed out of the marketing meeting, the senior development manager who pitched the idea of using Bieber, said that the singer's career might outlive RIM. And it looks like he might be right.
"One thing we missed out on was that Justin Bieber wanted to rep BlackBerry. He said, "Give me $200,000 and 20 devices, and I'm your brand ambassador," basically. And we pitched that to marketing: Here's a Canadian kid, he grew up here, all the teeny-boppers will love that. They basically threw us out of the room. They said, "This kid is a fad. He's not going to last." I said at the meeting: "This kid might outlive RIM." Everyone laughed."
-Anonymous BlackBerry executive
Instead, BlackBerry went ahead and signed Alicia Keys to be BlackBerry's Creative Director. Did Keys' appointment ever amount to anything? The company had to
write off $900 million in unsold BlackBerry Z10 units
, Thorsten Heins is gone with his
wallet fattened by $22 million of BlackBerry's cash
, and
CMO Frank Boulben is history
. Perhaps Justin Bieber wouldn't have changed any of this, but on the other hand, BlackBerry could have had a connection with the teens right now instead of the iPhone.
source:
BusinessWeek
,
TheGlobeandMail
via
MapleSyrup