Thorsten Heins could make $22 million for failing BlackBerry
10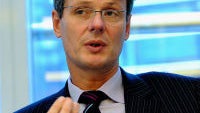 It seems like one of the more lucrative options available these days is to become the CEO of a big company, fail to be successful, then get a a huge golden parachute payment when you inevitably are forced out of the company. Now granted, the job of bringing BlackBerry back from the brink was one that few people could have been successful doing, and Thorsten Heins made a valiant attempt.
Heins was ultimately unsuccessful, and will be stepping down as CEO of BlackBerry. His golden parachute is a bit complicated, but basically he could end up earning as much as $22 million. Interestingly, it seems that according to his contract terms, Heins' biggest failure during his tenure at BlackBerry was in not finding anyone to purchase the company. In this, he could have learned from Nokia's Stephen Elop.
According to the terms of Heins' deal, he could have earned as much as $56 million had be been fired following a sale of BlackBerry. Because BlackBerry is not being sold, but just receiving a
$1 billion
investment, Heins' smaller parachute will be invoked. The equity piece of the deal is worth significantly less now because BlackBerry's stock price has dropped quite a bit since Heins took over as CEO, but between equity, salary, benefits, and cash, Heins could still end up with as much as $22 million.
If only we could all be so lucky when getting fired.
Blackberry_2013_Proxy_Circular