John Legere reveals his 2014 resolutions for T-Mobile
36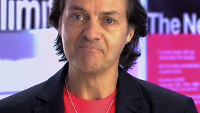 What a year T-Mobile had in 2013 under the leadership of its CEO, John Legere. Last time we saw the executive,
he was dressed as Santa, putting coal into the stockings belonging to Verizon, Sprint and AT&T
. Hey, the way 2013 went for Legere, who knows? Maybe he is Santa Claus. T-Mobile led the way by removing subsidies from phones, offering
multiple upgrades to customers in a 12 month period
,
removing roaming charges on data usage in over 100 countries
, and ending the practice of running a credit search for new customers. T-Mobile also started offering tablet owners
200MB of free data each month
. And lastly, T-Mobile is building out its LTE pipeline.
Legere has already hinted that something huge is coming at CES. Perhaps there is something in his 2014 resolutions list for T-Mobile that will give us a hint of what UNcarrier 4.0 could be. According to the obvious bit of self-promotion (not that we're judging, mind you), Legere writes that in 2014, T-Mobile will transform the wireless industry.
Among the resolutions he has for this year, Legere wants T-Mobile to "
continue to remove customer pain points
," go faster and louder with LTE, and "
un-shackle the family from those other guys
." He also adds that he wants T-Mobile to "
make waves
" at CES 2014. What happened last year at CES sort of ties in with the last resolution in which he jokingly questions whether or not to give AT&T a break. You might recall that at last year's show,
Legere called AT&T's network "crap"
.
T-Mobile has been so darn innovative that we can't wait to see what John Legere has in store for CES. The good news is that we are only days away from the start of this year's show. And when you want to know what is going on at CES 2014, just keep it right here for the latest news and coverage on new phones, tablets and accessories.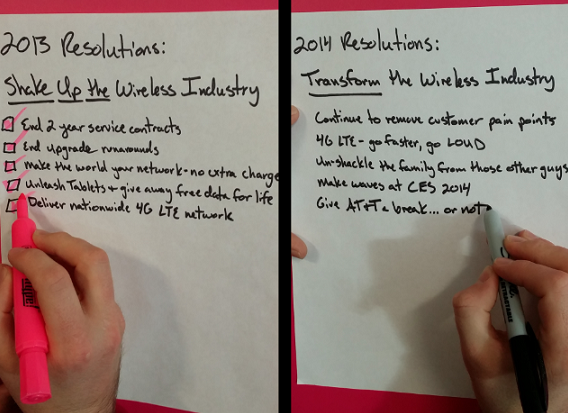 T-Mobile CEO John Legere writes out his 2014 resolutions for the carrier
source:
TmoNews