John Legere drops coal into his rivals' stockings
11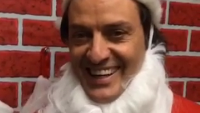 If we had to pick the mobile industry's Man of The Year for 2013, high on the list would be T-Mobile CEO John Legere. In a business where most executives dress in pinstripes and are as plain as white toast, Legere has longish hair and dresses (as someone else once said) like a rock star. But what he did in 2013 was take the fourth largest carrier and make it the most exciting mobile operator in the states. Legere's innovations have started to pay off as
1 million new customers joined T-Mobile last quarter
.
Legere is also outspoken, and obviously speaks his mind. This was apparent nearly a year ago at CES 2013 when he called AT&T's network "Crap". And keeping with this image, the executive has posted a hilarious Vine video that shows Santa dropping coal into the stockings of AT&T, Sprint and Verizon. Wait! That isn't Santa. Why, it's John Legere!
Take a look at the CEO's expression when he removes the beard. This is someone having a great time breaking all of the rules and trying to do things to make the industry more consumer-friendly. The next step for Legere and T-Mobile is expected
to be announced at CES at January 8th
and the speculation is that the carrier will announce UNcarrier 4.0. This could be anything from T-Mobile paying your ETF when you switch from your current carrier to T-Mobile, to free incoming calls while roaming. Whatever T-Mobile announces, Legere promises it will be a doozie.
Meanwhile, if you need a laugh for the holidays, check out the Vine video below.
source:
Vine
via
AndroidCentral