John Chen says hardware still important to BlackBerry
22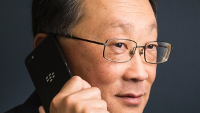 Those of you thinking that BlackBerry is about to cease making phones need to listen to what CEO John Chen said when asked about hardware by FOXBusiness on Monday. Chen, who is
closing in on his second anniversary running BlackBerry
after replacing a battle-shocked Thorsten Heins, confirmed that hardware remains an important part of BlackBerry's desire to offer complete end-to-end service.
The executive also pointed out that the company is taking steps to make the handset business profitable. When asked if the consumer business was still a priority considering the company's strong focus on the enterprise, Chen said that the company is focused on what it does best, which is "
security, privacy and enterprise mobility management
." Chen added that he is aware that there are consumers that are "
dedicated
" to BlackBerry and like the security that a BlackBerry handset provides. It sounds like the plans are to keep offering hardware with a focus on selling to the enterprise and to those consumers who crave a secure platform. It almost sounds like BlackBerry has come to the realization that it cannot compete with iOS or Android in the market for phones designed to entertain users. Chen seems to understand that BlackBerry can compete by selling handsets that help people be more productive at work. And that just might be a big enough niche market for the company to survive with.
"Hardware continues to be a valuable part of BlackBerry's end-to-end platform. That said, there is an incredible opportunity for BlackBerry to capture a greater share of enterprise revenues and service those customers who depend on the enterprise-grade mobility solutions that we provide. We have shifted some resources internally to focus on security and software. And, we will continue to be the choice for individuals who want to get the most out of their smartphones to keep their information protected and maximize their productivity, communication and collaboration."-John Chen, CEO, BlackBerry
Chen pointed out that all G7 countries and 16 of the G20 governments use BlackBerry because of the platform's security. He said that the company continues to innovate working on making data even more secure and private. Since this was an interview conducted by FOXBusiness, the inevitable question came up about a possible acquisition of the company. After all, BlackBerry has been linked to a number of firms over the last few years
including Lenovo
,
Samsung
, and more recently
Microsoft
. Chen said that BlackBerry is financially secure (the company has $3 billion in cash under the mattress) and is on track to meet its goals. But he said that the company always has its ears to the ground looking for acquisitions and partnerships that could help BlackBerry going forward.
In other words, it doesn't sound like another company has recently expressed any interest in buying BlackBerry. It also sounds like Chen is completely optimistic that BlackBerry can succeed on its own.
source:
FOX
via
Crackberry