John Chen says BlackBerry's transformation is complete, company is "out of danger"
31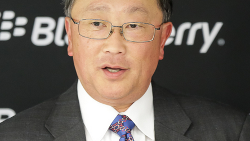 Consider the state that BlackBerry was in when John Chen replaced Thorsten Heins as CEO in 2013. BlackBerry 10, a gesture based operating system built by the company's QNX division, and the new handsets designed to run it, both failed to generate the sales necessary to lift the company's moribund market share. And
BlackBerry's largest shareholder pulled out of a deal to buy the manufacturer
for $9 a share. Chen had a new vision for the company, one that saw it focused on software and the IoT.
The new direction that Chen decided to steer BlackBerry in still leaves room for new 'Berry branded handsets. The only difference is that BlackBerry licenses its software and name, and now allows other manufacturers like China's TCL to handle the design, manufacturing and promotion of the new phones. For the second quarter, BlackBerry took in $56 million in licensing fees, up nearly fourfold from the $15 million in such fees it booked the year before.
BlackBerry is using its well known strength in security to get jobs providing secure software for banks and other companies that require protection from cyber-attacks. The company also is supplying the automobile industry with software for infotainment systems and for self-driving cars. And don't forget that BlackBerry offers apps for Android flavored phones in the Google Play Store.
When John Chen took the BlackBerry job on an interim basis back in November 2013
, he already had a reputation as a turnaround artist, getting SAP to buy Sybase for $5.8 billion in 2010. At this point, with the stock up 66% this year and the company making money, it would appear that Chen is at it again.
BlackBerry moved its shares today from NASDAQ to the New York Stock Exchange with the new ticker symbol of BB. Chen explained the move by pointing out to financial publication
The Street
, that BlackBerry's customers are mostly NYSE-listed companies. The executive also said that BlackBery's transformation is complete, and the company is now out of danger.
source:
TheStreet