John Chen has no intention of selling BlackBerry at the moment
25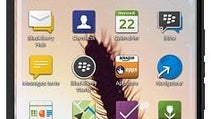 BlackBerry fans should be quite excited. The company is
teaming up with Google to help IT departments manage a fleet of Android powered handsets
. BES12 keeps business data protected on Android flavored devices owned by a company, or brought to work by employees. But that isn't really where the excitement lies. More and more we are hearing talk about an Android powered BlackBerry handset that has prospective smartphone buyers on the edge of their seats.
The BlackBerry Venice is a slider that offers a 5.4-inch 1440 x 2560 resolution screen
, powered by the Snapdragon 808 SoC. The slider's display is curved on both edges and Android 5.0 is pre-installed. The phone is expected to be launched this November as an exclusive from AT&T.
Besides the possibility that this cool looking Android slider is on the way from BlackBerry, there also has been talk that the beleaguered manufacturer will be the focus of an acquisition. But CEO John Chen says that he does not have any intention of selling the company at this time. The executive is waiting for the value of BlackBerry's stock to approach a figure that is closer to what he would consider to be the true value of the company. At that point, he would be interested in selling BlackBerry.
Chen also
reiterated his reason for staying in the hardware business
.
He
noted that BlackBerry still sells the most secure handsets in the world to major governments.
"I don't have any intention to sell BlackBerry. Not until the BlackBerry shareholder has good value reflecting truly what we have. Then, if there is a potential proper suitor that would take care of our customers... I have a fiduciary responsibility to listen. But until then, there's not point in listening... We make the most secure handset. Everybody, all of our competitors, will give that to us. Governments around the world are still using BlackBerry handsets. The emotional reason is, BlackBerry is iconic to the industry. We started this industry arguably."-John Chen, CEO, BlackBerry
source:
CBCNews
Crackberry