BlackBerry and Google shake hands on Android focused enterprise partnership
65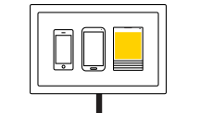 BlackBerry and Android have shaken hands on a new partnership that combines the fleet management capabilities of BES12, with the new security features of Android Lollipop 5.0. The result will be more secure business data on Android devices used for business. That includes use of encrypted data and restrictions on who can share information like calendars, contacts, files and apps. The devices covered are protected from malware, and personal information cannot be accessed by the company.
While the personal side of employees' Android handsets are blocked from IT, the latter has total control over all things business, from wiping devices to loading enterprise related apps. All employees will share the same experiences regardless of which Android device they use. And IT departments will have the same experience managing all of the Android devices in their fleet.
"New features are now available through Android and BES12 that enable organizations to further secure enterprise and personal data on Android devices, set new levels of hardware based encryption, and ensure tight integration with Google Play for Work, for increased application management, while delivering a consistent end-user and management experience across their Android fleet."-BlackBerry
The announcement comes just as rumors intensify that BlackBerry will deliver Android powered phones. The BlackBerry Venice, a 5.4-inch slider with curved glass, is
believed to contain the Android OS, and is rumored to be an AT&T exclusive
starting in November.
source:
BlackBerry
via
AndroidCentral