John Chen explains why BlackBerry still makes phones
99+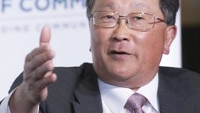 Fox News' Maria Bartiromo had an opportunity to speak to BlackBerry CEO John Chen for an interview published in
USA Today
. Chen, who has been running the company for 18 months, said that his first priority is to turn a profit. He notes that BlackBerry was in the black for the last two quarters, generating cash. The company does has $3 billion in the bank. He also points out that BlackBerry acquired three companies that fit well with its leading position in security, and its focus on enterprise sales, power users and government workers.
Ever wonder why, with its poor phone sales, BlackBerry remains in the hardware business? John Chen says that it's a good business to be in if (and it's a big if) you can make money. BlackBerry handsets are also the device that introduce customers to the company's security services and data management. "
So this is why all the governments in the major developed countries are using our devices
," BlackBerry's CEO says. "
You can see the heads of state using our devices
."
Chen's biggest problem at the moment is replacing the services fee that carriers used to pay BlackBerry when users of their old models paid their monthly invoice. Chen says that this fee was the highest margin revenue that the company had, and is now shrinking as consumers replace old 'Berrys with newer models or with a competitor's model. Because they have high margins, Chen says that if he can grow the software and messaging business, he will be able to make up for the slowing services revenue. Overall, he sees more opportunity overseas than in North America.
"We also made our device more secure than everybody else's. A lot of people ask me why I'm in the device business. First, it's a good business to be in if you can make money. Second, it's our first entry point of security. If we can secure the device, it makes securing the software and the data management and the collaboration and file sharing and content and pictures and videos and everything that much more easier."-John Chen, CEO, BlackBerry
source:
USAToday
via
Crackberry