Joe Belfiore caught in a corner by Laura Foy, epic video of WP7's Mango update ensues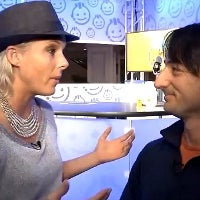 We already wrote about the
new features
expected to hit Windows Phone 7 handsets with the upcoming update, codenamed "Mango", but it's another thing to get them demoed by the hands of
Joe Belfiore
himself.
As the head of Windows Phone Program Management at Microsoft, he is one of the main guys who will have the final say about what will go in the
Nokia Windows Phone
.
He was cornered at the
MIX 11 development conference
by Laura "Thug" Foy, a Microsoft internet show host, and it all ended up well for him and for us, since most of the new features got demoed on the
ASUS phone
that has been used as a Windows Phone 7 development platform from the onset.
The video is 15 minutes long, so if you don't feel like watching the whole thing, the universal search and app quick jump are at
2:43
, the Marketplace enhancements are at
4:30
, search apps at
5:45
, the apps which take advantage of the now-open sensor and camera APIs, plus the new
Live Tiles
are at
8:00
, and the real multitasking demo is at
10:50
.
If you are eager to watch the whole 2 hour keynote about Windows Phone 7 at MIX, it is available
here
.
via
DailyMobile