Japanese carrier au by KDDI offers an app to gain full control of Tokyo…sort of
8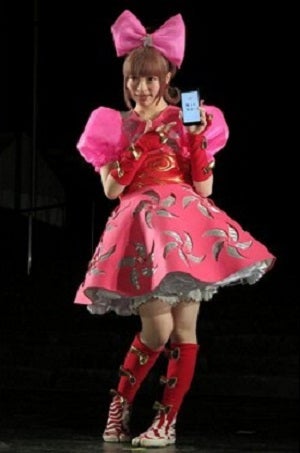 Okay, it is not like anyone was able to use their smartphone to muster Godzilla-like mayhem upon the city, but Japan's second largest carrier did have a really cool app available for invited guests of a concert that was held at Sojoji Temple at Shiba Park.
Singer Kyary Pamyu Pamyu performed while KDDI enabled the local area to be used as an interactive digital theme park. Using KDDI's iOS or Android app, "Odoroki," (which means surprise) guests could manipulate street lights, water fountains, even taxis. The singer incorporated using Odoroki into her show by manipulating the lights on the iconic Tokyo Tower. The concert was held on January 29th and was billed in ads by KDDI as "Full Control Tokyo" and promoted the carrier's 4G LTE service. The event was also used to promote the app which (besides controlling Tokyo) allows users to tie music with videos and images and share them with friends. The idea being that it is a new way to express feelings and free oneself from the constraints of life. The app also ties into Facebook and Twitter so that the collections can be shared with anyone.
If you want to learn more about the application, and can read Japanese, you can see the app in
Google Play
, and in
iTunes
.
There is no video of the event itself, but the ad gives you the idea. It also shows that, even with the advertisement's liberties with how the whole thing came off, Tokyo has some pretty cool stuff.
via:
Japan Trends