J.P. Morgan sees a 90% chance of T-Mobile getting bought out within five years
6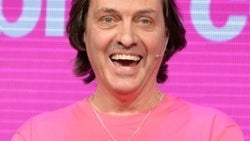 U.S. banking and securities house J.P. Morgan sees some consolidation upcoming in the wireless industry. One carrier that J.P. Morgan sees as being a near certainty (90%) to be purchased some time in the next five years is T-Mobile. The company was already the subject of a deal in 2011 with AT&T, but the latter
had to call it off after U.S. regulators promised to turn down the transaction
. With the deal scuttled, T-Mobile received spectrum and cash from AT&T as the break-up fee. That loot helped turn T-Mobile from an also ran, into what is arguably the most influential U.S. wireless operator.
According to Morgan, Sprint could have T-Mobile in its cross-hairs. The nation's fourth largest carrier is always on the list of possible T-Mobile buyers. Regulators put the kibosh on a possible Sprint and T-Mobile tie-up in 2014; since then,
T-Mobile leaped over Sprint to become the third largest carrier in the states
. According to J.P. Morgan analyst Philip Cusick, there is now a 35% chance that Sprint and T-Mobile hook up. That is up from just 10% in September. Cusick says that if a deal is announced between T-Mobile and Sprint, there is a 70% chance of regulatory approval.
Besides Sprint, there have been persistent rumors about a cable company buying T-Mobile. It would be an expensive, but strategic play for a cable or satellite provider looking to jump right into the industry. Dish is one name that has been bandied about.
Still, Sprint parent SoftBank has promised to increase its investments in the U.S., which could increase the likelihood of a Sprint purchase of T-Mobile. Sprint is 80% owned by SoftBank, while 65% of T-Mobile is owned by German wireless giant Deutsche Telekom. The latter's CEO, Tim Hoettges, said in November that he wasn't "in the mood" to sell T-Mobile. The executive said that he was waiting for a change in the U.S. regulatory environment under President Trump.
"We believe that parents Softbank and Deutsche Telekom have increased their preference for a tie-up in the last six months and that the value of about $5 billion of annual synergies is enough to smooth over most disagreements on relative value."-Philip Cusick, analyst, J.P. Morgan
Meanwhile, someone has been buying T-Mobile shares. The stock has risen from $47 to $59 since August.
source:
Reuters