Is this the most hard-to-get Apple product of all times?
36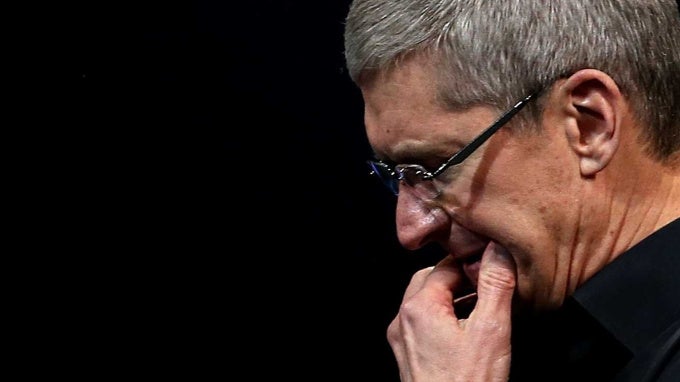 When Apple launched the original iPhone, people were initially a bit wary about this new technology. In fact, Apple itself was not completely sure how much it was going to sell, setting a first-year goal of 10 million units. It was only further in time, when more and more people got to actually try this new type of a smartphone that the demand started surging. The iPod was also a similar story.
In fact, if you look at the history of Apple, it has had quite a few hit products, but somehow the company has habitually been able to catch up with often overwhelming demand in a matter of just a couple of months. In the past few years, it usually takes Apple around three months to catch up with demand for its new iPhones after it launches them in late September, and these days, you can get an iPhone 7 or 7 Plus right away.
However, it's now been nearly 4 months since the (delayed) launch of Apple's AirPods and getting them is still a challenge on its own.
4 months after their launch, you still need to wait 6 weeks for Apple's AirPods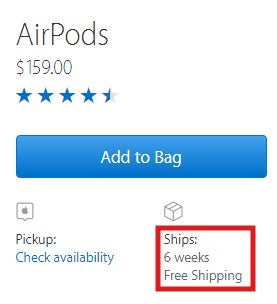 Shipping times for AirPods have not improved since their launch
In fact, if you go right now and try to order a pair of the futuristic cordless AirPods, you are not only paying $160 for the privilege, but you are also signing up for an excruciating, 6-week waiting time for the AirPods to ship. A 6-week shipping time for an Apple product that has been launched some 4 months ago is clearly out of the norm. It's clear that there is something special going on with the AirPods. The two obvious reasons for the delayed shipping are clearly either overwhelming, unexpectedly huge demand, or some challenges with the manufacturing of the tiny, white, tooth-brush shaped earbuds. But given Apple's mastery of the supply line with much more demanded gadgets like the iPhone, more and more people are starting to wonder whether it is not manufacturing difficulties that keep on slowing down the production of AirPods.
The $160 AirPods undercut the competition in terms of both pricing and features. The outstanding 5-hour battery life, the addition 24 hours coming with the tiny floss-like case, the ease of use and setup, the solid connection, the automatic pause functionality when you take an AirPod out of your ear, and so much more make these 'truly wireless' earbuds special. We just hope Apple learns to make more of them faster. It's not just us who want them, it seems that the whole world is put on a 6-week wait.