Is this the LG G3: specs for top-shelf Sprint-bound LG phone leak out
39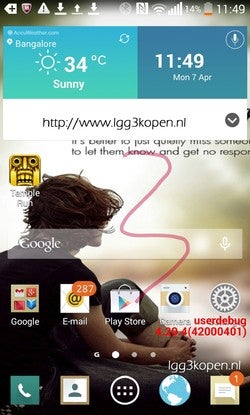 LG G3 alleged screenshot leaked out earlier
Bits and pieces about the
LG G3
, LG's anticipated next Android flagship, have
leaked out here
and
there
, but this latest leak of a UA Prof file of a mysterious device could turn out to be one of the biggest of them information drains.
The file was spotted on Sprint's official website, and it reveals details about an upcoming LG-LS990 device, a phone that could turn out to be the LG G3.
The leaked specs paint a picture of a device with a large, 5.5-inch display that has a Quad HD resolution (2560 x 1440 pixels), higher than current-day devices. Other spec highlights include a quad-core Snapdragon chip under the hood, and a 13-megapixel main camera. All in all, it's clear that we're looking at a top-shelf device with pretty much the latest specs.
The only slightly confusing detail of the LG G3 puzzle painted here is the system chip. The UA Prof file lists a variation of the Snapdragon 800, and it's reasonable to expect newer hardware (like the Snapdragon 801) on such a device.
Take a look at all the leaked specs for this LG G3 candidate yourself below:
Should we trust this leak? It's important to know that it comes from a User Agent Profile (UA Prof) file, a type of specification files that describes the model, screen size and other features of the device before it gets officialized. Making such a file is not obligatory, but usually when released it is comes from the phone maker itself (in this case from LG), and is a near-official confirmation of a device's existence. This does not mean that LG can't change things in the last moment, though, so we'd advise you not to take anything for granted until the official launch of the device.
source:
Sprint
via
MyLGPhones