Is this the Google Pixel 3?
12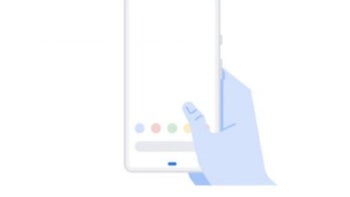 When you are looking for an Android phone that best embeds the core ideas of the platform and you want timely updates, your number one choice is most likely one of Google's Pixel phones. In just two years, the Google Pixel series have gained a loyal following among techies with their fast software, guaranteed updates and great cameras, but the new Google Pixel 3 might finally push things forward in the design department as well.
A curious new detail out of the latest Android P developer beta shows a placeholder for a phone and this could well be an indication of what the next Google Pixel phone will look like.
And what we see on this particular image is a futuristic phone with a true, edge-to-edge screen. There are no buttons at the front of this image, no big bezels anywhere, no chin and quite importantly, no annoying notch. Color us exciting, but is such a design even possible you may wonder? Currently, all Android phones have a small, but noticeable bezel at the bottom, the so called "chin" bezel. It's there for a reason: that's where display drivers reside.
But a couple of phones are different. Enter the Vivo Apex, a concept phone that was first shown to the public at Mobile World Congress 2018. The Apex has a true, edge-to-edge screen with no bezels and a very, very tiny "chin" bezel. Then, you have the Xiaomi Mi Mix 2s, a phone that also has no notch, an edge-to-edge screen and a very tiny bezel at the bottom.
So yes, such a phone design is definitely possible in 2018 and if Google partners with a phone maker like Vivo or Xiaomi that have already made such a phone, we see no reason why the Pixel 3 will not look like that.
Of course, keep in mind that the placeholder in those images is merely an illustration and is in no way a leak. The next Pixel might well have a notch as well: after all, support for a notch is another new feature supported in Android P. The truth is that at the moment nobody knows what the Pixel 3 will end up looking like, but the mere hope of a true edge-to-edge design is certainly very exciting.