Is this Nokia N96?
This article contains unofficial information.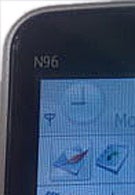 Photos have leaked in Mobile-Review's forum showing a device claimed to be Nokia N96. We are not certain if this is a real phone and even if it is, we presume it will not be named N96, since what the photos show is not enough high-end for the N90 series. By design, the device is similar to N81, but there are a lot of changes. For example, the speakers are just on one of the sides and the slider opens both downwards and upwards as in the N95. The photos also reveal a 5-Megapixel camera with Carl Zeiss lens, but with a LED flash instead of Xenon (unlike N82), which is logical for a high-end model. There is a stand around the camera that can be pulled out for placing the device in landscape.
Our expectations are that if the model is truly real, it will be announced in the beginning of next year.
via:
EngadgetMobile