Google Glass update brings a browser to the device as well as new features
10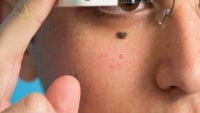 Until recently, Google Glass did not have a browser which of course meant that those wearing the connected specs could not surf the web. But a major update to Glass adds a browser along with some new features. Google Glass will now respond to some
more verbal commands
. Let's say you receive a text. Say, "
Ok Glass, read aloud
," and you can hear the message read to you. When you're ready to reply, say "
Ok Glass, Reply
." It's a great way to get things done with your hands free. And it should prevent you from looking like
SNL News Update Randall Weeks (played by Fred Armisen) when he was "testing" the device
.
The update will now allow you to send a message or call any of your Google+ contacts by clicking on "
Send a message to
..." from the main menu. Scroll through your contacts' photos and tap on the appropriate picture to send a message or make that phone call. The update also allows Glass users to delve deeper into a search. While searching on Google Glass, you can learn more about what you are searching for by clicking on a "
View Website
" link to see a web page.
Navigating on the Google Glass browser requires you to let your fingers do the walking. To scroll on the browser, you slide your finger on the touchpad. You can zoom by taking two fingers and sliding forward and backward. With two fingers on the touchpad, move your head left and right to pan around the screen. And, while you are looking around, you can tap to select anything in the center of the screen.
Google says that Google Glass owners will see the update pushed out to them automatically in the next couple of days.
source:
Google
via
Gizmodo
Recommended Stories