Is the screen on your iPad 2 "leaking" light?
62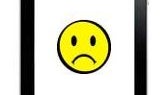 It has to be disappointing, to say the least, to wait for hours in line and to spend a decent amount of money on Apple's iPad 2 only to find out that it has a
defect
when opening it later at home. This is pretty much what happened to a fellow youtuber who noticed an irritating imperfection on the screen of his brand new iPad 2.
When a dark image is displayed on the screen of the defective iPad 2, a slightly lighter area becomes apparent right next to the home button creating a rather unpleasant effect of light "leaking" from underneath the edges. Several other cases of the same imperfection have been reported, but at this time it is still not officially a widespread issue. Tweaking the brightness seems to make a difference though it cannot override the defect completely. You can watch the video below in order to get a better idea of what the "leaking" of light looks like.
If you have just bought an iPad 2, we
strongly
recommend you take a closer look at your screen and see if your tablet is suffering in a similar fashion, and if it does, do not hesitate to bring the issue up to Apple. You can also feel free to drop us a comment below and tell us if your iPad 2 is plagued by the defect as well.
source:
I Am Phones (YouTube)
via
Engadget