Is a third-party battery to blame for this Nexus S explosion?
11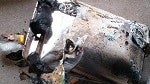 Kirsten Zastrow was awakened to the sound of snap-crackle-pop and the smell of something burning a couple hours after she plugged her
Google Nexus S
in for a charge when she went to bed.
What she saw as she got up was a piece of her phone, on fire, just a couple inches from where her head used to be. She put the fire out and started to figure out what happened.
Her phone was in pieces, scattered all over the place from the explosion (hence the "pop" sound) and the bit that was on fire next to her head was the phone's battery. We read about exploding phones quite often, and invariably we can point to some type of user error or downright abuse of the device.
In Zastrow's case, her phone is about two years old and she recently replaced the OEM battery with a third party power cell, in this case, manufactured by a company called Anker. That right there would raise a red flag with some. However, there are a lot of reputable products out there and a brief search about Anker's battery quality does not reveal anything shady going on.
Then again, Anker, like many manufacturers, has their products built in China. Considering that variable, it is entirely possible that that this one part may have had a quality control issue. Isidor Buchmann, CEO of Cadex Electronics, who makes battery testing gear, said that even the Chinese are afraid to buy batteries made in China, "With third-party batteries, the likelihood of a battery failing would be much greater. I was just in China last month, talking to their military, and there was concern even there to buy cells that are made in China by a third party. It's a quality issue."
Anker, for its part, is working with Zastrow to see if its battery was indeed the cause of the explosion. How minute could the quality variance have been? Very small, "If something crept in that's metallic, a short could occur between the two plates. It may be so small that it's unnoticeable, but eventually a little bit of warmth, heat or vibration could make it worse. It's almost like leakage in a water dam. It works itself open and then the dam breaks," according to Buchmann.
So we are not waving you off from using third-party batteries. In fact, many of us here have used more than a few and do not have any horror stories to share. Do you have any interesting third-party battery stories?
source:
Mashable