Iovine and Dre rumored to get senior positions at Apple if Beats deal gets done
53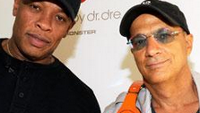 In the aftermath of Thursday's rumor that
Apple is going to buy Beats Audio for $3.2 billion
, the two music industry legends at the heart of Beats, are said to be in line to receive senior positions at Apple. Jimmy Iovine and Dr. Dre are at the center of a deal that could net both a King's ransom.
Despite a video selfie from one of those legends
, Dr. Dre, that hinted at a deal being done, nothing official has been announced by either company.
Iovine is expected to leave his current job as chairman of Interscope Geffen A&M records, a division of Vivendi SA's Universal Music Group. Universal, which owns 14% of Beats, would reap about $500 million in the transaction. With his connections to superstars including U2, Iovine might be able to help Apple sign deals with popular talent. One report stated that Iovine was in line to become a special adviser to Apple CEO Tim Cook, although Dre's role in the tech firm was not discussed.
Both Dre and Iovine have been through this before, In 2011,
they sold a 50.1% stake in Beats Audio to Taiwan based HTC for $300 million
. Despite the company's growth,
they bought back the stake two years later for $150 million
. HTC had branded some of its high-end handsets with the Beats Audio logo and had included special software and technology on its phones. The manufacturer also included a pair of premium HTC earphones with certain models, only to
end the practice when it became too expensive
.
source:
WSJ