Internet Explorer on Windows Phone 7 pitted against Safari and Froyo browser on video
13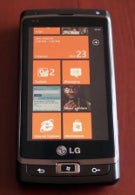 The folks from PocketNow have pitted the IE-based browser of Windows Phone 7 against the current crown jewels - Safari on the
iPhone 4
, and the Android 2.2 browser on the
Nexus One
. The WP7 browser seems to have come a long way from the slow buggy experience observed in the early prototypes.
Still running on the
LG GW910 (aka Panther)
developer's phone, the browser exhibits page loading, kinetic scrolling and touch gesture speeds comparable to the competition. The mobile Internet Explorer even has some unique features like simultaneous tabs loading. Rotating the view in landscape mode seemed a bit slower than on the other two handsets, maybe due to the transitional animations present in Windows Phone 7. This is still not a final build of the WP7 mobile OS, so the competition should be officially worried – Microsoft seems to have gotten one of the major selling points in any smartphone about right.
Look at the ten minute video below to check out the WP7 browser behavior on the 3.5" screen of the LG GW910.
source:
PocketNow