Intel says Ultrabooks more functional than any Apple gear, yet working on a sub-$300 StoryBook Android tablet for schools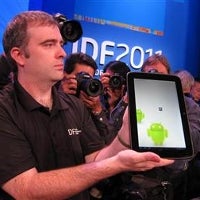 Intel is restless in pushing its Ultrabook platform of thin and light devices with great battery life, innovative form factors, which also include touchscreens, and packing quite the hardware punch.
Intel reps have said that the iPad can't compare in terms of functionality to the Ultrabook concept, and even the MacBook Air is just "
a great choice for someone who wants to invest in the Mac operating system... But really, with the Ultrabook, it's about offering all those things in the same device--the great responsiveness, the great battery life--and with an operating system that people have come to love over the years, as well as all the legacy applications that they would like to run.
"
Despite pitching its Ultrabook concept, Intel is hedging its bets by developing a dual-OS tablet based on its Medfield chipset platform that will be destined for the educational market. The slate is to be called StoryBook and be priced south of $300, which is a pretty good entry point for a 10-incher. At this price we guess the two operating systems on it should be Android and
Intel's own Tizen
, since Windows 8 licences come at a cost, so it will be very interesting to follow Intel's experience with the StoryBook in emerging markets.