Intel just spent $50 million to acquire ZiiLABS' 100-core Android processor tech from Creative
11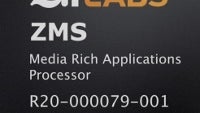 Intel has been strongarmed by ARM Holdings, the British RISC processor architecture company that is behind the design of CPUs and GPUs currently delivering the performance of our smartphones and tablets on a fraction of Intel processors' power consumption.
The chip giant knows it missed the boat so far, and is aiming to quickly catch up.
CEO Paul Otellini already announced retirement plans
, which many argue had to do with the new mobile realities that Intel is completely missing out on, and now Intel is buying ARM-based designs outright.
The company just spent $50 million in total to acquire engineers, assets an intellectual property from ZiiLABS, a wholly owned subsidiary of Creative, the guys behind the famous SoundBlaster cards of recent memory.
The interesting thing about ZiiLABS is that they are an ARM licensee, and have a ZMX-40 creation based on a 1.5 GHz quad-core Cortex-A9 CPU for Android, like the one we have in the Snapdragon S4 Pro, but combined with 96 of ZiiLABS' patented
StemCell media processing cores
. The company went as far as calling a 100-core mobile processor earlier this year when introduced, and the chip design was fully optimized with Android 4.0 ICS in mind at the time.
This 96-core GPU tech is what Intel is apparently interested in, and we fully expect the move to boost Chipzilla's mobile processors in the graphics department going forward, so the next edition of
Motorola RAZR i
might shape up to be pretty interesting.