Intel executive says 14nm Bay Trail chip provides more power and energy efficiency than Apple's A7
42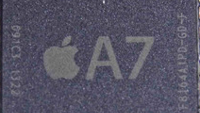 Intel CEO Brian Krzanich took some time during Tuesday's conference call with the media, to answer a question posed by an inquiring mind. The analyst wanted to know what the advantages were of Intel going to a
14nm process
versus the 28nm process used for the Apple A7 chip. The analyst noted that Apple was able to score good benchmark results with its silicon. As a general rule, the smaller the geometry of the chip, the more advanced the manufacturing process leading to more powerful and energy efficient chips.
Krzanich responded by comparing Intel's Bay Trail silicon to the Apple A7. He noted that the difference between using the 28nm process on the A7 and the 22nm process on its Bay Trail allowed the latter to have a higher transistor density which allows for a more energy efficient, powerful chip. The executive also touched on price stating that a traditionally designed laptop powered by the Intel Bay Trail processor can sell at retail for as low as "
$299, which is a new real price point for a touch-enabled devices, so we see it continuing to grow as we enter next year
."
"All of our products are 64-bit. The products we're shipping today are already 64-bit. And if you take a look at things like transistor density. And if you compare, pardon the pun, apples to apples, and compare the A7 to our Bay Trail, which has a high-density 22-nanometer technology, then our transistor density is higher than the A7 is. The A7 is a good product, but we do see the Moore's Law advantage from 28 [nanometers] to 22, when you compare dense technology to dense technology. And we believe 14 nanometers is just another extension of Moore's Law. That is, twice the density [of 22-nanometers]."
-Brian Krzanich, CEO, Intel
Samsung is expected to start producing 64 bit Exynos 6 chips from a 14nm process. Those chips are should be powering up some of Samsung's mobile devices next year. Speaking of a 64 bit processor, when discussing the Apple A7,
Qualcomm CMO Anand Chandrasekher originally called it a gimmick
that was useless to
Apple iPhone 5s
users. Before you could snap your fingers, Qualcomm did a 180 degree change and
called Chandrasekher's comments inaccurate
. Ouch! Getting thrown under a bus has got to hurt.
source:
CNET
via
BGR