Instant Preview feature is now available with Google searches for Android & iOS
3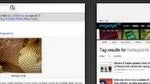 If you've been doing some Google searches on your computer, then you're probably familiar with the
Instant Preview feature
that basically shows you a preview window of a page when you roll over the link with your mouse.
Well, it appears that it's coming to the mobile scene for
devices running at least Android 2.2 and iOS 4.0
. In fact, Google announced today that its Instant Preview feature is available to those mobile devices that meet those criteria. Basically, all you have to do in order to use Instant Preview is to tap on the
magnifying glass
next to your associated search results. From there, you'll be transitioned to a new layout that displays the thumbnails of the sites side-by-side to one another.
Granted that some might believe it to be an insignificant new feature, but when you take into consideration the amount of data being processed by going back and forth through your results, it can very well save you on your monthly consumption allotment. Check it out now!
source:
Google Mobile Blog
via
Phonescoop