Insider says Microsoft was kicked out of CES
32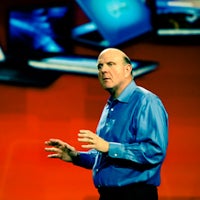 Just a couple of hours ago,
Microsoft announced its officially leaving CES
and the 2012 Ballmer keynote will be the last big appearence of Redmond at the annual show dedicated to consumer electronics. But while the press release suggested that CES and Microsoft parted ways on amicable terms, an insider suggests that's far from the truth and the company was actually "kicked out."
An insider source over at GigaOm revealed that the Consumer Electronics Association (CEA) organizing the show was against Microsoft holding a keynote event, and the software giant decided to pull its booth as well in response.
"Microsoft didn't pull out of the keynote – they were kicked out. Big difference,"
the anonymous insider stressed. Now, we'd definitely take this with a grain of salt. First, the anonymity of the source doesn't give it any credence and secondly it's not clear why the CEA would not want Microsoft to hold a keynote at CES.
It's true that Microsoft has been mostly focused on the enterprise market, with its last couple of keynotes circling around the consumer market, and this year Redmond is also expected to focus on a news recap from the year, rather than aim to hit us with big announcements.
Here's the official PR from the CEA:
"In the fourteen years that we have invited Microsoft to deliver a keynote address at CES, the company has unveiled some great innovations, from operating systems to gaming platforms to mobile technologies. Both CEA and Microsoft have agreed that the time has come to end this great run, and so Microsoft will not have a keynote at the 2013 CES."
The association hasn't replied to the rumor, so it's up to you to decide how credible it sounds in the comments below.
Image courtesy of James Martin/CNET.