Indiana's ban on teenage drivers using cellphones shows significant results
5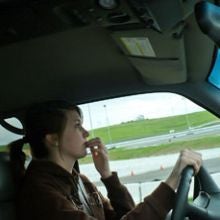 During 2009 and 2010, the state of Indiana imposed a number of new laws intended to reduce the number of
driving accidents
involving teenagers. In July of 2009, recently licensed drivers were banned from late-night driving, and driving with passengers. Also, drivers under the age of 18 were prohibited from using their cellphones on the road.
A study by the Indiana Public Policy Institute attempted to gauge the success of their new laws. They found that the number of accidents involving
teenagers
with passengers has remained constant, as has the number of late-night accidents. But the ban on cellphone use did have an effect.
The percentage of all wrecks involving teenage
drivers on cellphones
dropped from 0.71% to 0.56%, which represents a 21% reduction in teenage cellphone-related accidents. We should also consider that officers were probably more likely to report the involvement of a cellphone now that it's illegal. So the percentage before the new law might be even higher.
While we agree with the motives of the state of Indiana, we're not sure about their measurements of success. For example, they're claiming a victory against cellphone-related accidents, but teenage accidents might have remained constant overall. It doesn't matter that John Doe Teenager wasn't talking on the phone when he ran over a mailbox.
source:
Indiana University
via
Gizmodo