AT&T launches anti-texting while driving documentary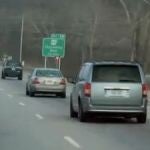 New Year's Eve is approaching, and while we're all excited for the parties, we also recognize that it's the most dangerous driving day of the year. Alcohol companies air commercials about drinking and driving, but now
AT&T
is issuing a similar warning for texting while driving.
AT&T is distributing their free documentary, 'The Last Text,' that features interviews from those affected by
texting while driving
. One such victim was Mariah West, who texted "Where u at," just before crashing her car into a bridge, and losing her life. 'The Last Text' will feature interviews from Mariah's parents.
Ray LaHood, the U.S. Transportation Secretary, says that "Distracted driving is an epidemic, particularly among teens who are confident in their ability to text or talk while driving." LaHood also shares that the largest portion of the 5,500 distracted driving deaths last year were drivers under age 20.
Cathy Coughlin of AT&T says that they "hope it will make wireless customers think twice before pulling out their cell phones in the driver's seat." With the support of AT&T, CTIA, the National Safety Council, and the National Organizations for Youth Safety, 'The Last Text' will have no trouble reaching its audience.
The video will be distributed throughout many public schools, as well as AT&T's
It Can Wait
website, and their YouTube channel. We expect that it will also be added to driver education courses. Take a look at the video below, and share it with your multi-tasking friends. Stay safe, readers.
source:
AT&T