Imagination Technologies takes cover off PowerVR Series6XE entry-level GPUs
1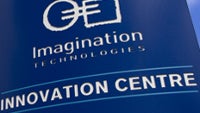 Along with the new high-performing
PowerVR Series6XT
, Imagination Technologies, the company known for supplying GPUs for the iPhone 5s and iPad Air, unveiled the Series6XE family of chips bringing the Series 6 architecture into the entry level, and to very power sensitive devices.
Imagination Technologies unveiled two PowerVR Series6XE chips for a start - the G6050 and the G6060. While both are largely based on a Series 6 design, some XT features like the PVRIC2 compression are also present. Interestingly, both GPUs come with just half a cluster (indicated by the second digit, the "0", in their model names). There are no further details as to how exactly IT managed to shrink them down like this, but good news is that the new chips are ISA compatible with the Series 6 instruction set.
There are also two new GPUs that go by the G6110 and G6100 names, that offer even higher performance. Both are single-cluster designs, and Imagination Technologies only says they come with a brand new texture mapping unit to achieve fill-rates on par with earlier generation multi-cluster GPUs.
Finally, Imagination Technologies confirmed that the new parts will be available for licensing right away. We'd expect the first real-world devices with the new chips in late 2015.

Imagination drives highly-advanced PowerVR Series6 architecture into all key entry-level mobile and consumer segments
Innovative graphics cores in new PowerVR Series6XE family include the world's smallest fully-featured OpenGL ES3.0/OpenCL GPU core
INTERNATIONAL CES, LAS VEGAS, Nev. – 6 January, 2014 – Imagination Technologies (IMG.L) announces a new line-up of PowerVR Series6XE Rogue graphics processing (GPU) IP cores targeting cost-sensitive, mass-market applications. The new Series6XE family, including the world's smallest fully-featured OpenGL ES 3.0 and OpenCL-capable GPU core, are designed to enable high-quality graphics and efficient GPU compute performance for products such as entry-level mobile devices and tablets, as well as wearables and other consumer products including DTVs and set-top boxes, in which silicon area and memory bandwidth are limited, but advanced graphics performance is still desired.
The new Series6XE cores take advantage of the latest architectural advances and offer a balance of silicon area and performance that is ideal for designing an OpenGL ES 3.0 and GPU compute-capable range of low-cost, highly capable devices. The cores go beyond the already highly-efficient design of the Rogue Series6 G6100, which has also been updated and further optimized as part of the new Series6XE family. Since its introduction in 2013, the G6100 has been licensed multiple times, including by a number of tier-one companies, for applications including smartphones, tablets and consumer products.
Series6XE cores offer a comprehensive and feature-rich range of solutions delivering the best combination of area-efficiency, power consumption and performance.
PowerVR Series6XE G6050: The highly innovative design of this new core takes advantage of the latest Rogue architectural developments and extends the scalability beyond one cluster to a half-cluster while maintaining full software compatibility, creating the smallest fully-featured OpenGL ES3.0 and OpenCL-capable GPU core available. The core's highly-efficient fillrate throughput makes it ideal for a wide range of entry-level mobile products, wearables and other consumer devices.
PowerVR Series6XE G6060: This core augments the half-cluster design of the G6050 with the addition of Imagination's second generation lossless image compression (PVRIC2), providing an optimal balance of small size and bandwidth reduction for products such as entry-level mobile products, tablets and full HDTVs and set-top boxes.
PowerVR Series6XE G6100: This is an updated and further optimized version of the original core and features a single Unified Shader Cluster (USC) combined with a high-performance texture mapping unit, enabling it to deliver the same raw fillrates as multi-processor GPUs from the previous generation.
PowerVR Series6XE G6110: This single-cluster core extends the above G6100 design, adding PVRIC2 for improved throughput, reduced bandwidth, conserved power and improved system performance – key for products such as low-cost 4K UltraHD TVs and tablets where bandwidth is a limited, valuable resource.
PVRIC2 in the G6060 and G6110 cores is key for meeting the cost-sensitive targets of entry-level designs, since the bandwidth reduction enables significantly lower system-level cost through lower-cost memory subsystems in the SoC, lower-cost memory modules and overall device bill of materials (BOM) cost reduction.
Says Martin Ashton, EVP engineering, PowerVR Visual IP, Imagination: "With the introduction of these new PowerVR Series6XE Rogue cores, Imagination is deepening its focus on cost-sensitive entry-level designs where silicon area, power consumption and bandwidth usage are critical concerns. The original G6100 core already hit the sweet spot across all of these metrics, and the new cores go beyond that advantage and significantly expand our range of entry-level solutions. We've also designed these cores with a focus on delivering an excellent user experience across all market segments. With its high fillrate efficiency, the PowerVR Rogue architecture enables our customers to create products with the best possible GUI and browser performance."
Design Optimization Kits enable up to 30% area reduction
Imagination's physical Design Optimization Kits (DOKs) for PowerVR Rogue IP cores offer customers the flexibility to optimize for power, performance and area (PPA), leading to significantly better quality of results with shorter design cycle times, as well as reduced silicon area and power consumption. Imagination's DOKs are comprised of optimized reference floorplans/design flows based on industry-leading EDA software, tuned libraries from partners, characterisation data and documentation.
Imagination's continued investments in DOKs have already led to a 30% reduction in area for the G6100 core.
Software and tools support
Imagination provides developers with free access to the PowerVR Graphics SDK, a cross-platform toolkit designed to support all aspects of 3D graphics application development. Developers can join the PowerVR Insider community, download the SDK for free and interact with the community of 45,000+ members through developer forums at www.powervrinsider.com.
Availability
PowerVR Series6XE cores are available for licensing now. Contact info@imgtec.com for more information.
- See more at: http://www.imgtec.com/News/Release/index.asp?NewsID=822#sthash.LXnTONba.dpuf