If need be, iPhone assembler Pegatron could expand U.S. production capabilities
15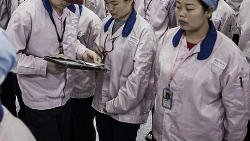 Will Apple end up producing at least some iPhone units in the U.S.? Certainly that is the hope of President-elect Donald Trump, who called out Apple during the campaign
for manufacturing its devices overseas
. Since then,
Apple has been talking with the companies that assemble the iPhone overseas
like Foxconn and Pegatron. While the former agreed to look into moving some production to the states, Pegatron reportedly said that the process would be too costly.
However, the chairman of Pegatron, TH Tung, said today that the company could increase its production in the U.S. by as much as three to five times if pushed. The factories are located in California and Indiana. Even with this large increase in output, one report published on Monday says that this increase would not be nearly enough to produce enough handsets to cover Apple's demands.
Trump, who will be inaugurated just four days, has floated the idea of a 35% tax on products made overseas but shipped into the U.S. The goal is to force U.S. companies to bring production, and thus jobs, back into the states. But this will only work if the cost of setting up new facilities in the U.S. is cheaper than simply paying the 35% tax.
via
AppleInsider
Recommended Stories