Donald Trump wants to coerce Apple into manufacturing devices in the United States
99+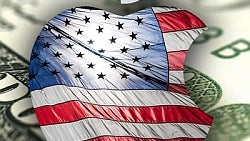 In a speech at the Liberty University earlier today, GOP candidate Donald Trump claimed that he'll be able to pass legislation that would coerce Apple to manufacture devices in the United States.
Aside from bashing on both his Republican and Democrat competitors in the 2016 race to the White House, Donal Trump also touched heavily on outsourcing in his speech.
The presidential candidate initiates his outsourcing theories based on Ford's intention to move its factories to Mexico, claiming that he's planning to impose a 35% import tax on all products assembled or manufactured outside of the US.
Eventually, however, Trump turns his attention to Apple, claiming that his regime will get Apple "to build their damn computers in this country instead of other countries".
To rational, economically-educated people, such a plan is a gross objection of free trade. Trump, however, doesn't seem to agree. At the 1:40:23 mark in the video below, the GOP presidential candidate says:
I'm a free trader, I want free trade, but we've got to be sort of like smart here.

Delusions aside, it would certainly be beneficial for the US if Apple were to assemble its products on domestic soil. Such a move would create jobs, a direct source of growth for the economy. Furthermore, from a human rights perspective, the concerns regarding working conditions at Foxconn plants in China would be dissolved.

Unfortunately, however, the POTUS doesn't have the kind of power to make this happen without severely limiting free trade, the very basic assumption of modern economic philosophies.
If you've got an hour to kill and don't mind being amused, here's the full-length speech (Trump starts his routine at about 1 hour and 5 minutes into the video):