IDC: In Q3, Apple led in the value of "connected devices" shipped while Samsung led in volume
28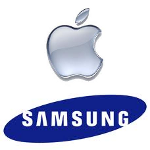 IDC released its latest report on the global shipment of "connected devices" and found that sales of such products, which includes
PCs
,
smartphones
and
tablets,
rose 27.1% to a record 303.6 million units shipped with a dollar value of $140.4 billion in the third quarter. For the current quarter, IDC sees the number of "connected devices" shipping globally at 362 million units for a 55.8% gain over last year's fourth quarter. Sales should rise 39.5% to $169.2 billion.
up 97.5% from last year
. The Korean based manufacturer increased its leading market share to 21.8% from 14%. Apple trailed Samsung in all of the volume numbers, finishing second with shipments in Q3 of 45.8 million, up 38% from the 33.1 million shipped in 2011's third quarter. But even though the Cupertino based firm had a 15.1% share of the global "connected device" market, it was number one when it came to the top line. Thanks to an average selling price of
$744
across its product line, Apple took in $34.1 billion in revenue during the third quarter to lead the category. Samsung's average selling price was
$434
.
The trend toward smartphones and tablets and away from PCs can be seen in the performance of Hewlett Packard, which was the only company in the top 5 to have negative growth as its market share dropped from 7.4% in the third quarter of 2011 to 4.6% in the same quarter of 2012. HP is the only company in the top 5 with no mobile connected products. By 2016, IDC sees growth in global smartphone and tablet shipments to come in at 95.9% and 131.2% respectively.
"The battle between Samsung and Apple at the top of the smart connected device space is stronger than ever. Both vendors compete at the top of the tablet and smartphone markets. However, the difference in their collective ASPs is a telling sign of different market approaches. The fact that Apple's ASP is $310 higher than Samsung's with just over 20 million fewer shipments in the quarter speaks volumes about the premium product line that Apple sells."-Ryan Reith, program manager, Worldwide Mobile Device Trackers at IDC
source:
IDC
via
AppleInsider