Hummingbird on steroids - Samsung Vibrant overclocked to 1.6 stable GHz
6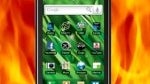 We know that the 1GHz Hummingbird chipset in the Samsung Galaxy S and the Samsung Galaxy Tab, is currently the
most advanced
single core system-on-a-chip in a commercial device. Its graphics subsystem is able to pump up to 90 million triangles per second, leaving everyone else behind. The only thing holding it back is that the phones still run Android 2.1, not the much faster Froyo version.
Well, developers have finally decided to push the envelope regardless, and have overclocked the CPU in a Samsung Vibrant to 1.6GHz, stopping at where it behaved stable. As if that was not enough of an impressive feat, they removed the factory FPS lock, and the Hummingbird on steroids achieved 78 frames per second, compared to the usual 55-60.
T-Mobile G2 users have been bragging about Quadrant synthetic
benchmark scores
past the 2200 mark, after overclocking it to 1.3GHz. The phone is having the
next-gen Snapdragon chipset
, which, produced in 45nm, makes for much faster processing speeds than the previous version.
The overclocked Samsung Vibrant, however, ringed in the astonishing 3083 score in Quadrant, probably the largest score we've ever seen in a consumer device. It will only improve when the handset gets its Froyo serving, and the modders will continue optimizing the Samsung Galaxy S versions for speed. They are currently lacking access to a Samsung Fascinate, so if anyone is willing to donate a Fascinate for frying, let them know.
We can only say kudos to Samsung, and imagine what the scores will be when its
dual-core Orion SoC
hits the market, probably next year.
source:
Phandroid