Huawei's own CEO doesn't see much use for smartwatches
5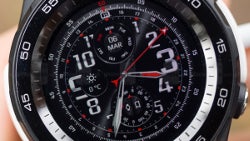 Smartwatches are a weird gizmo — they started off as a geek-only niche device, then manufacturers tried to sell them as legit fashion accessories. In order to increase their feature count and provide more arguments for their usefulness, manufacturers transferred a lot of fitness-tracking features from fitness bands to the smart timepieces. Yet, the smartwatch market is just having a tough time picking up.
It's understandable why a lot of manufacturers are wary of making new products for the scene. Apple has already established a very strong foothold in the field with its Apple Watch, and Samsung is chasing it as a close second with the Gear S line. The rest are having trouble pushing a sale — a smartwatch isn't cheap, but often does end up looking like a child's plastic toy. The trifecta of design, brand recognition, and proper marketing need to be on point, and that combo is hard to chain. Even Google wasn't exactly in a hurry to release the much-anticipated Android Wear 2 OS update.
Again, the market is tough mainly because it's hard to sell a smartwatch on its features. This is something that Huawei's own CEO — Eric Xu Zhijun — discussed in a talk at the company's 2017 Global Analyst Summit. His own opinion of smartwatches is that they just don't seem to have much practical use when we already have smartphones.
This doesn't mean that Huawei has stopped developing timepieces, but it's extremely careful about its future plans for such products.
"[...] when the smartwatch team in Huawei presents their ideas"
, Xu said,
"I keep reminding them to consider whether there are tangible needs [for these products] in the market"
.
So, it seems the company is keeping a cool head and taking an analytical approach to how it should proceed with its wearables. Huawei has two smartwatches out — the original
Huawei Watch
, which came out in 2015, and the
Watch 2
, which was one of the first smart timepieces with
Android Wear 2
on board, and came out in 2017. You can check out our reviews on the devices (just click their names above here), but here's a spoiler: we didn't find the Watch 2 to be particularly mindblowing or a huge improvement over the first one. Well, Android Wear 2 was certainly an improvement, but credit goes to Google for that one.
Source:
South China Morning Post