Huawei wants Google to open up Android Wear
15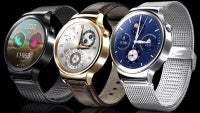 At the beginning of this month, Huawei introduced its
stunning new smartwatch
at MWC in Barcelona. While the watch is powered by Android Wear, it seems that Google's wearable platform isn't receiving rave reviews inside Huawei. The company's Vice President of Product Management, Yang Yong, feels that Android Wear is too closed. He points to Huawei's own research which shows that smartwatch buyers want unique features so that they can make the timepiece their own.
The problem, as Yong sees it, is that Android Wear prevents manufacturers from customizing and thus differentiating their watches from the competition. Outside of different watch faces, and the hardware design of a smartwatch, manufacturers of Android Wear devices don't have much leeway once they decide to use the platform. Android Wear supplies the UI, apps and menus which cannot be changed.
Future versions of Android Wear might offer more custom features, but for now there seems to be a move away from using it. Samsung has employed Tizen for most of its smartwatches, including the stand-alone Samsung Gear S. LG's premium Watch Urbane uses the webOS based Wearable Platform OS and Asus says that
its next-gen smartwatch will not be powered by Android Wear
.
Huawei's Yong says that the company has conducted research on which watch faces appeal the most to prospective customers of its smartwatch. Until Google loosens the reins around Android Wear, there isn't much else that the company can do to the software to make the Huawei Watch stand out from the competition. That leaves the hardware, and by all accounts Huawei has done a great job in designing a premium looking timepiece.
"People have different appetites for the watch. What we are doing is trying to make from the hardware view, in the design view, in the software view, in the surface view, we are trying to differentiate our watch to appeal to the consumers who will use it."-Yang Yong, Vice President of Product Management, Huawei
source:
TrustedReviews
via
AndroidAuthority