Huawei trademarks PhoPad name in the U.S.
5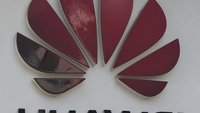 China based Huawei could be bringing some competition for the Asus Padfone. Or perhaps they are about to break the 7 inch screen barrier for a phone. All we know is that the OEM has trademarked the name PhoPad with the USPTO and it could refer to a phone/tabet combination like the AsusPadfone in which the phone syncs with a tablet dock and powers the slate.
Another possibility is that they will be presenting a phone with a screen so large, it could be referred to as a tablet. The actual patent doesn't clear things up as it refers to a mobile phone and a tablet computer.
Last January, at CES 2013, Huawei introduced the
Huawei Ascend Mate
whose
6.1 inch screen was the largest on a smartphone at that time
. Now eclipsed by the 6.4 inch
Sony Xperia Z Ultra
, will Huawei be reclaiming the spot as manufacturer of the largest screened smartphone? After all, CES 2014 is exactly one month away.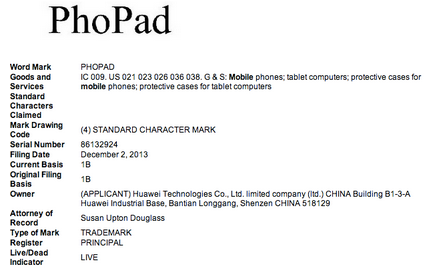 Huawei trademarks PhoPad name
source: USPTO via
Phandroid