Huawei executive says it will build another Nexus device this year
29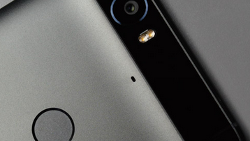 Huawei produced its very first stock Android Nexus handset last year, the
Nexus 6P
. Loaded with high-end specs, the phone was a success. That would normally earn Huawei another opportunity to produce another Nexus handset in the future. With
HTC rumored to be prepping a pair of Nexus handsets for this year
, it would seem that Google already has its Nexus dance card filled for 2016.
But while in South Africa Thursday for the unveiling of the
Huawei P9
,
Huawei P9 Plus
and
Huawei P9 lite
, the company's general manager for its Consumer Business Group in the region let a big cat out of the bag. Charlene Munilall reportedly told local media that "We're doing the Nexus again this year, by the way." Considering that HTC is expected to launch both a 5-inch (model T-50) and a 5.5-inch (model T-55) Nexus handset this year, there wouldn't seem to be any room for Huawei to return to the land of Nexus until 2017 at the earliest. Like it did in 2015, Google does want to offer two Nexus models each year with one being a high-end unit.
It is possible that the comments attributed to the Huawei executive were taken out of context since she was talking about imports of the Nexus 6P into the South African market. The phone has not yet been released in the region. You can read the comment below and judge for yourself whether or not Huawei will be producing another Nexus model this year.
"The Nexus product is a very niche product… the techies love it but there's a very small number of people that buy it. Hence Cellucity only brought 300… into the country…The operators generally don't take up the Nexus device. That said, the distributors, our open market, do bring in the device, that's how Cellucity got it… and that will still be the same this year.
We're doing the Nexus again this year, by the way,
"-Charlene Munilall, general manager, Consumer Business Group, Huawei
Since 2010 when the
Nexus One
launched, there have been eight phones unveiled from five manufacturers. LG has delivered the most Nexus phones with three (
Nexus 4
,
Nexus 5
and
Nexus 5X
). Samsung is responsible for a pair (
Nexus S
,
Galaxy Nexus
) while Motorola (
Nexus 6
), HTC (
Nexus One
) and Huawei (
Nexus 6P
) have done one apiece.
Regardless of whether it produces a new Nexus model this year, Huawei has certainly earned a shot at building another one in the not too distant future. If not this year, perhaps next year. If not then, well, soon.
source:
Gearburn
via
AndroidAuthority