Huawei chief trolls the iPhone 6 Plus, flaunts the Mate7 superior screen-to-body ratio
80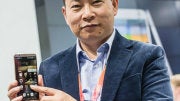 With its 6.18 x 3.19 x 0.31 inches (157 x 81 x 7.9 mm) dimensions, the
Huawei Ascend Mate 7
is the most compact 6-incher out there. In fact, due to the greatly reduced bezel from all sides, it flaunts 83% screen-to-body ratio, which is one of the highest in the industry. It's still a huge phone, yet is shoehorning a 6" panel in a body more akin to a 5.7" phablet, like the
Galaxy Note 4
, or even to a 5.5" one with generous bezels, like the
iPhone 6 Plus
.
It's precisely Apple's first phablet that was chosen by Huawei's CEO to compare the Mate 7 with not only with dry dimension numbers, but side-by-side, too. Plastered on its Weibo page, Huawei's boss exemplifies how compact for the screen size the Mate 7 is (or how big the 6 Plus, depending on the perspective) by snapping a few pictures of the phablets sitting next to each other. Apple's big-screen warrior carries 6.22 x 3.06 x 0.28 inches (158 x 77.7 x 7.1 mm) dimensions, so it is just 1mm shorter, and only a tad narrower than the Mate 7, despite sporting a half-inch smaller panel.
Apple now has to put the
Touch ID
fingerprint sensor on everything, and the home key embedding might have worked on the 4"
iPhone 5s
, but on the 5.5" phablet, it just makes the bottom bezel way thicker than needed. Huawei doesn't have legacy problems with its finger scanning solution, so it placed it on the perfect place for a phablet - up there on the back, right under your index finger, and shrunk both the top and bottom bezels significantly. Moreover, the convex Huawei sensor works in a way similar to Touch ID, and doesn't require you to swipe for unlocking, but rather simply place your finger on it. The iPhone 6 Plus, on the other hand, one-ups the Mate 7 by offering optical image stabilization, and we can't wait to stage a cage match between these two phablet juggernauts.