Huawei responds to rumors, says P30 line and Mate 20 Pro will be updated to Android Q
3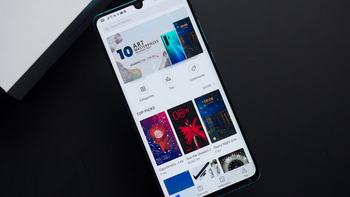 "At Huawei, we always put our consumers first, regardless of the challenges we face. All Huawei smartphones and tablets will continue to receive security patches and Android updates. Anyone who has already bought, or is about to buy a Huawei smartphone, can continue to access the world of apps as they have always done. All devices continue to be covered by our manufacturer's warranty and will receive full-service support accordingly. Our most popular current devices, including the P30 series, will be able to access Android Q. In fact, we have already launched a beta developer program for Android Q which is running right now on our Mate 20 Pro device."-Huawei
Huawei could see shipments drop by up to 60 million units this year

Addressing some of the rumors that have swirled around the manufacturer since the middle of last month, Huawei notes that its handsets and tablets will continue to receive security and software updates. The company says that Android won't be automatically uninstalled from its devices and that WhatsApp, Facebook, and Instagram can still be installed and used as normal. Huawei also points out that nothing has changed in terms of the functionality of its devices and the warranty that covers them. In addition, the company says that those performing a factory reset on one of its devices will not lose access to Android. And to refute rumors that it is leaving the smartphone business, Huawei says that it "...will continue to sell smartphones. Furthermore, we will continue to invest in research and development to deliver leading innovation and the best possible smartphone experience."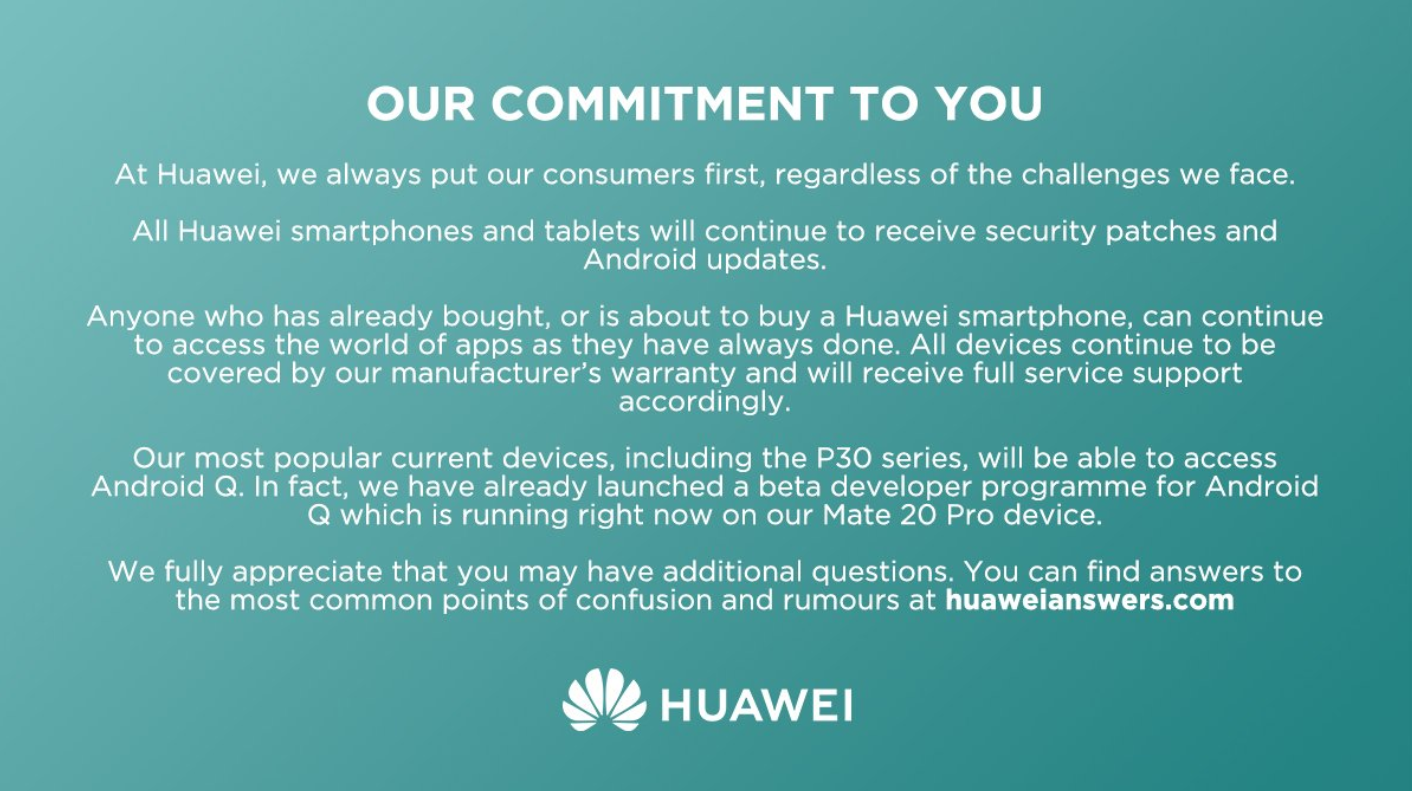 Huawei tries to clear up some confusion about whether some of its current models will receive Android Q
Huawei also posted a list of devices that it has asked Google to update to Android Q. The list includes:
P30 Pro
P30
Mate 20
Mate 20 Pro
PORSCHE DESIGN Mate 20 RS
P30 lite
P smart 2019
P smart+ 2019
P smart Z
Mate 20 X
Mate 20 X (5G)
P20 Pro
P20
Mate 10 Pro
PORSCHE DESIGN Mate 10
Mate 10
Mate 20 Lite
Huawei is reportedly cutting shipments of the P30 line
and is also cutting orders for the upcoming Mate 30 line. The firm shipped 206 million smartphones last year and 59 million in the first quarter of 2019. It hoped to top Samsung and become the largest smartphone manufacturer in the world next year. But Huawei now expects international shipments to drop 40% to 60% from the 100 million units it delivered outside of China last year. So the bottom line is that Huawei could see its deliveries decline by 40 to 60 million handsets in 2019.
UPDATE:
According to T3, the Honor 20 and Honor 20 Play will both be updated to Android Q
.
To replace the Google Play services version of Android, Huawei's newer models will use its own Hongmeng operating system (aka ArkOS). Huawei also has its own app distribution platform called App Gallery. And once it eats through the year's worth of chips and components it stockpiled anticipating a ban, the company will need to find an open source architecture for its Kirin SoCs to replace the designs it had been licensing from ARM Holdings. Lastly, Huawei will need to find new companies outside the U.S. to sell it chip designing software. Obviously, the goal is to make the firm totally self-sufficient.