Huawei Mate 30 Pro Hands-on: what I LOVE and what I HATE about it
17
This article may contain personal views and opinion from the author.
Even if you have some of the most innovative camera technology and a record-beating battery life, yet your phone does not run Google Apps, you might wonder if that's even a smartphone.
You have probably heard about it: the Huawei
Mate 30 Pro
, the company's flagship for late 2019, has no Google apps because of the US-China trade war.
But this phone is seriously very exciting, so you are missing out on some great stuff. These are the top features that I love about it, but also a few ones that disappointed me.
Huawei Mate 30 Pro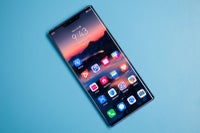 What's HOT
1.
It has a unique curved display that extends over the edges of the phone. Imagine the familiar curves on Samsung phones, but to a much larger extent. Some call this a "waterfall" screen for the effect it creates, plus with this you get the feeling as if the phone has no bezels on the side at all. I was worried that accidentally touching the side of the screen would be a bad experience, but Huawei has implemented some sort of a palm rejection, so this wasn't an issue. But apart from just looking cool, I didn't find much actual use of this curved screen.
2.
It has a huge, 4500mAh battery on the inside and this is a big deal. The battery size alone is impressive, it's larger than any other mainstream phone and in my experience with the Mate 30 Pro, it would last two days with average use. You have to charge most phones every day, while this phone is next level. Of course, if you are actually using 5G, you will get a bit less than that. You also have a 40-watt fast charger included in the box, and it allows you to get more than 50% charge in less than half an hour. This is also the first phone to support 27 watt
wireless charging
, so fast that we didn't even have a wireless charger fast enough to test it.
3.
The Mate 30 Pro looks like a camera and I really dig that look. You have three cameras on board, a main, a telephoto and an ultra-wide. I love the video stabilization here, it's absolutely amazing. The phone just magically makes your footage look extremely steady and cinematic, it's much better than on any other phone. Also, if you take a lot of pictures of people, the portrait mode works great, you can shoot portraits at 1X, 2X and 3X, and the 3X zoom portrait mode makes for the best portrait pictures, and few other phones have it. And its larger camera sensor brings some big improvements for low light photos.
And if you like recording videos with the front camera, you will be extremely impressed with the new AI HDR feature that gives you footage that looks better than on most rivals.
Plus, you also have that super sloooow mooo option that slows down reality to a near complete stop. It's a gimmick that you may never use, but a fun one.
4.
You have one of the best face recognition systems on board here. The Mate will scan your face much like the iPhones and this 3D scan gives you a secure and easy way to unlock the phone. But if you don't want that, you also have an optical fingerprint scanner that also works great and unlocks the phone quickly too. No other phone on the market offers both a secure 3D face scan and a fast and reliable in-screen fingerprint scanner.
5.
Also, this phone is packed with antennas. It features a 5G modem on the system chip which is more efficient while most other rivals don't even offer a 5G option at all yet.
6.
Finally, Huawei's new EMUI interface has improved a lot. It looks cleaner and more modern, more stylish, plus gestures now work smoother.
What's NOT
1.
There are also a few things I didn't like about this phone, and first and foremost, of course it is that lack of Google services which is a big deal. You don't realize how much you depend on the Google Play store, YouTube, Google Maps, and all the rest until you are handed a phone like this one. It almost feels like it's not a smartphone without those apps. And yes, there are ways you can sideload the Google GMS license and all Google apps, but we're not even sure that's legal, so we won't get into that. But unless you feel like a hacker that wants to do that, we just can't recommend this phone at all.
2.
And this brings us to the price, which is just absurd for a phone without Google services. The Mate 30 Pro costs around $1100 which is more than the latest iPhones and Galaxies. This is a lot of money for a handicapped phone.
3.
There are also a few other things. Because of that "waterfall" screen that goes over the
edge
of the phone, we don't have volume buttons. Instead, you have to double press on the side of the phone to get them to pop up. Problem is, this doesn't really work every time and it's frustrating not being able to control the volume, especially if you accidentally play something loud in a public space and are rushing to turn down the volume.
4.
Also, the camera quality here is… well, inconsistent. Sometimes you get great photos, and other times, colors on pictures appear just weird. Huawei has been praised for including some innovative camera features like that periscope 5 times zoom camera in the
P30 Pro
and this time with the Mate 30 Pro it has two much bigger camera sensors, but while technically it is more advanced than the competition, the actual images just don't look as nice as on some other phones.
5.
Last, but not least, this phone is quite big and it has sharp edges so it's definitely not the most comfortable thing to carry in your pocket. Should I also mention that there is no headphone jack on board? I personally miss having it.
Final Words
The Mate 30 Pro is a beast of a phone that has a lot going for it and one huge obstacle to overcome. If the clouds around Huawei clear and the Mate 30 Pro gets Google apps, it would be among the top contenders, despite its flaws. Without those Google services, it takes a little bit of hackery (which is probably illegal) to even be able to watch YouTube videos, and that is not an experience we would recommend to most users.
Either way, we will be testing the Mate 30 Pro in a lot more detail over the coming days and a full review is due. Stay tuned for that and drop any questions you may have about the phone in the comments below.