5 things to love and 5 things to hate about the Huawei Mate 20 Pro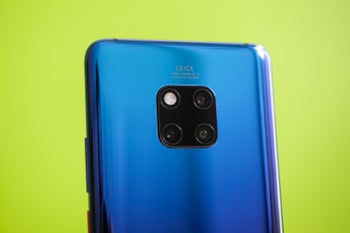 The
Huawei Mate 20 Pro
is one of the most surprisingly good new phones around and I have been using it in and out for quite a while now, so it's time to take a closer look at the features that really stand out and make me go back to this device, as well as to the downsides.
Let's start with all the great things that make the
Mate 20 Pro
stand out...
1. Love: this phone is so compact and easy to use with one hand
The
Mate 20
Pro is a fast phone that works well and I love this, but there is something else that I appreciate even more: its the form factor. The Mate 20 Pro is a tall and narrow phone that fits very nicely in the hand and is not quite as gigantic as many other flagship phones around. In fact, being as narrow as it is, the Pro is not too hard to use with one hand when you need to and that's a big plus.
Huawei is one of very few companies that make their own chips and it has made a big leap forward with the Mate 20 Pro. The processor inside the phone is the Kirin 980, the first chip on any Android phone to feature a next-generation, 7-nanometer manufacturing process. And this is a big deal: benchmarks show that this chip is faster than the Snapdragon 845 found in most flagships today and the Mate 20 Pro does indeed feels fast and very responsive.
3. Love: Fast charging works amazingly well
People are different, but yours truly suffers from a very well-pronounced smartphone addiction and often has trouble falling asleep without some tunes or a YouTube video blasting in bed. Naturally, this often makes me forget to plug in the cable to charge the phone at night and often results in a surprise in the form of a nearly drained battery the next morning. Thankfully, Huawei's SuperCharge is an absolute life-saver in those situations. A quick, 30-minute charge while I am busy preparing my breakfast, and the phone gets the needed charge to last through the whole day. This is such a life-saver.
4. Love: the screen looks gorgeous
Most flagship phones these days come with OLED screens that tend to look more lively and vibrant than LCD screens, but not all and we are happy to say that the Mate 20 Pro is among the better looking ones.
5. Love: comes with a case in the box!
Working at PhoneArena, I have witnessed shattered screens on the most expensive phones way too often and whenever I get to test a loaner phone without a case on it, I feel a bit nervous. That's why little things like the basic transparent silicone case that comes in the box with the Mate 20 Pro goes a long way and is hugely appreciated. You can always get a fancier
leather case
later on, but it is those first few days when you are not yet accustomed to the new device that you are most likely to drop it and crack the screen or the back. That's when you need a case. So thank you, Huawei, for this nice little touch.
1. Hate: There is so much bloatware on this phone!
The Mate 20 Pro comes with a bunch of bloatware apps on board. You can hide them in folders and out of sight, but why are they there in the first place? Nobody likes bloatware, but the Mate 20 Pro puts it right in your face and with no app drawer by default, managing those apps is a pain.
2. Hate: Gesture navigation could be better
Gesture navigation is the way of the future. It makes for a much more fluid way to interact with your device than tapping on buttons and it can feel excitingly futuristic. That is if you do it right.
Huawei has not done it wrong and it mostly works okay, but there are a few hiccups. For example, why is it so hard to pull the recent apps from the home screen? It's almost impossible! And what's with the jittery animations when closing and opening apps? We wish Huawei ironed out these tiny, but so noticeable hiccups in the gesture experience on the Pro.
3. Hate: No swipe down for notifications
There is no swipe down to quickly bring notification panel, a small thing but once you have such a tall phone, it really becomes annoying very quickly to reach all the way up to see what notifications you have. Most other Android phones offer an option to enable quick pulling the shade with a swipe from any place on the home screen, but in the Huawei way of doing things, you can only have quick search, but no quick access to the notification dropdown.
4. Hate: Raise to wake does not work well
We have already told you that in-screen fingerprint scanners like the one on the Mate 20 Pro do work, but are slower and not quite as accurate as traditional fingerprint readers. Thankfully, you have 3D face recognition on board as well, which works even better and we ended up using that as our preferred security system. However, we can't get over the fact that raise to wake does not always kick in when needed. Raise to wake is of such a crucial importance for the face recognition experience: you just lift up your phone, the screen lights up, the cameras recognize you, and you're in. If one element misfires, like the raise-to-wake, the whole routine is interrupted. And for something as basic as raise-to-wake, we really expect Huawei to improve this in the future.
5. Hate: Little bugs here and there
Huawei's Emotion UI is different than many other interfaces that you might be used to, but it has also improved a great deal with this latest iteration on the Mate 20 Pro. However, some bugs still remain and it is particularly frustrating to see such bugs on a phone that costs $1,000! For example, after trying out a few third-party wallpaper apps, now I can't even change the lockscreen wallpaper on the Mate 20 Pro! There are a few questionable hardware decisions too: for example, the microphone on the bottom is located right next to the SIM card slot, so you can easily prod the microphone and damage it rather than get the SIM tray open. Those are minor things, but if Huawei strives for perfection, it has to fix them.
Overview: Huawei Mate 20 Pro the features we LOVE and the ones we HATE